The Devils
(1971)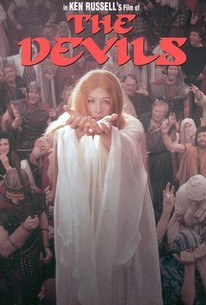 Movie Info
The Devils was the Ken Russell film version of the controversial play by John Whiting. The story, based on Aldous Huxley's The Devils of Loudun, concerns controversial 17th century French priest Urbain Grandier, whose radical political and religious notions and profligate sex life earn him many enemies. When a group of nuns appears to have been "bewitched" by Grandier, his rivals feed on the resulting mass hysteria, using this incident as an excuse to have the priest arrested. Refusing to confess to being in league with Satan and to renounce his "heretical" views, Grandier undergoes appalling tortures, and is finally burned at the stake. Vanessa Redgrave co-stars as the head nun. Due to censorship issues in virtually every country in which The Devils has been released, running times vary greatly.
News & Interviews for The Devils
Critic Reviews for The Devils
Audience Reviews for The Devils
½
For a while, the impression one gets is that Russell is not interested in discussing insanity (or its nature) but just to show it - bare naked - in a purely exploitative, surrealistic way; which is true, until everything moves so confidently towards an apotheotic display of mad depravity.
Carlos Magalhães
Super Reviewer
½
One of my all time favorite movies, sadly missing a proper DVD release with the full uncut version to this day. Seems the movie keeps hitting nerves after 40 years. Oliver Reed gives the performance of a lifetime.
Tsubaki Sanjuro
Super Reviewer
½
Here's a film that deserves a far more detailed write-up than I am going to give it. Easily the best film I saw last year. Stellar performances keep your eyes positively glued to the screen. Wild, fiery subject matter for those willing to open themselves up to it. Well worth seeking out the original cut of the film, with the "Rape of Christ" sequence in it. This almost got an official DVD release a while back but someone applied the brakes. Lets hope cooler heads prevail and let this amazing film be seen by a greater audience.
The Devils Quotes
There are no approved quotes yet for this movie.