The Devil's Brigade
(1968)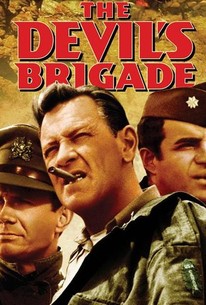 AUDIENCE SCORE
Critic Consensus: No consensus yet.
The Devil's Brigade Photos
Movie Info
During the early days of World War II, while the United States was massing its forces for the war, England hastily plans commando raids against the German forces to keep them at bay until America's troops enter the war. As a part of this plan, the Allies create the 1st Special Service Force to plan and carry out an attack on Norway in order to tie up the German forces. This commando force of Canadian soldiers and American GIs is headed by Lt. Col. Robert T. Frederick (William Holden), a paper-pusher given his first field command. Antagonism immediately erupts between Canadian Maj. Alan Crown (Cliff Robertson) and American Maj. Cliff Bricker (Vince Edwards). But Frederick utilizes their mutual dislike as a basis for a rivalry that turns this rag-tag group of misfits into a disciplined fighting force. But now that Frederick's men are ready to fight, Frederick receives word that the Norway mission has been canceled. After appealing to Washington for another assignment for the commandos, the brigade is sent on a patrol near the German lines in southern Italy. The brigade captures an enemy-held village and is then given the seemingly impossible task of taking Mt. La Difensa.
Rating:
NR
Genre:
, ,
Directed By:
In Theaters:
On DVD:
Runtime:
Studio:
MGM
Critic Reviews for The Devil's Brigade
There are no critic reviews yet for The Devil's Brigade. Keep checking Rotten Tomatoes for updates!
Audience Reviews for The Devil's Brigade
½
True story. Cliff Robertson is outstanding while Vince Edwards is horrid. Holden is ok. It's like The Dirty Dozen minus the superstar cast of the Dozen. Military prisoners from the U.S. can be a part of this dangerous early WWII mission or they can go back to jail. The major flaw with this movie is making the Germans look like complete bafoons. Watch this one to the end, as the first half is pretty bad. The other parts are equally crazy. These guys scale a near mountain with no gloves on 4 ropes for dozens of men. There were no knots in the ropes for a hand hold. Maybe it really happened like this, but it sure strained crediblility for me. The major plus is the cinematography and sometimes great moments. I wouldn't say it's the best or even near best WWII flick I ever saw, but it is not terrible EXCEPT in the first hour. [img]https://encrypted-tbn0.gstatic.com/images?q=tbn:ANd9GcTzjEsZfDakc_vrNHlZHJy9N6VUQwkEYxW0YauVZ6aqLGLvXL2A[/img] SEE this clip from the film, one of the better ones: http://www.youtube.com/watch?v=g1awwAgU_t8 "David L. Wolper bought the rights to "The Devil's Brigade" in 1965, well before filming began on "The Dirty Dozen." That makes it impossible to describe Wolper's movie as a weak imitation of "Dirty Dozen." Yet that's what it will seem like to audiences."...."There was doubtless stupidity on both sides during the war; there's certainly no lack of it in "The Devil's Brigade."--- roger ebert [img]https://encrypted-tbn0.gstatic.com/images?q=tbn:ANd9GcRiAUU4oNM3YsCsYTPyTcbPoS7JbbSCW_OOrsLFHi95v08cdICL[/img] Richard Dawson (of TV's Hogans Heroes) has a role as well as Carrol O'Conner (of TV's Archie Bunker). Vincent Edwards plays a major role, formerly of the very popular doctor tv show "Ben Casey". His acting is forced, not convincing as a tough guy who always has a cigar in his mouth. [img]https://encrypted-tbn3.gstatic.com/images?q=tbn:ANd9GcRch89m7CUy-08ac-K5lOU2c8i9TQ9-tKVSS2NGTw7b-JYsYk3_ag[/img] the surviving members of The Devil's Brigade "The film recounts the formation, training, and first mission of the 1st Special Service Force, a joint American-Canadian commando unit, known as the Devil's Brigade. The film dramatizes the Brigade's first mission in the Italian Campaign, the task of capturing what had been an impregnable Nazi mountain stronghold, Monte la Difensa."--wikipedia [img]http://www.canadiansoldiers.com/oneill.jpg[/img] Lots of "B" actors in this one. The first mission is to capture German prisoners, but the first three they confront they kill by suprise. Holden leads this treacherous platoon into hostile territory but has never been in combat a day in his life! The flaws in this one are too many to enumerate. "In The Devil's Brigade - his first film production - Wolper had his Brigade wear attractive but fictional red berets. The pipes and drums featured in the production were the "Salt Lake Scots Pipe Band" who furnished their own instruments and uniforms for the film shoot. The band still exists today."---wikipedia [img]http://www.britposters.com/images/the%20devils%20brigade%20320x240.jpg[/img] SEE the entire film for yourself here: http://www.youtube.com/watch?v=2Zoue3yYVQI [img]http://upload.wikimedia.org/wikipedia/en/thumb/4/46/Devbdepos.jpg/220px-Devbdepos.jpg[/img] REVIEWS by us nobody's: 60% fair movie about a true story. 80% THE DEVIL'S BRIGADE (1968) NOTES: 1. Leonard Maltin's reviews gave this a mediocre rating of 70%. 2 General Mark Clark in Italy gave the men a chance to prove themselves. Clark asks the 1st Special Service Force to recon a German garrison in an Italian town, but Frederick (Holden) decides to go one better and capture the entire town. 3. Convinced now of the ability of Frederick's men, Gen. Clark gives them the task no other Allied troops have managed to achieve - to capture Monte La Difensa. 4. A time of civil unrest in the U.S. and black activists complained about no black actors being in the film. There were no black actors hired because there were none in the unit. 5. They were called the Devil's Brigade, and East Liverpool native Hugh R. Starr was counted as one of their elite members. William Holden as Lt. Col./Col. Robert T. Frederick, Commanding Officer (CO) of the 1st Special Service Force Cliff Robertson as Maj. Alan Crown, Executive Officer (XO) of the 1st Special Service Force & CO of the Canadian company Vince Edwards as Maj. Cliff Bricker, Operations Officer Harry Carey Jr. as Capt. Rose, 2IC of the Canadian company Andrew Prine as Pvt. Theodore "Handsome" Ransom, former member of the Army Air Forces Jeremy Slate as Sgt. Patrick "Pat" O'Neill, hand-to-hand combat instructor Claude Akins as Pvt./Cpl. Rockwell W. "Rocky" Rockman, section leader Jack Watson as Cpl./Sgt. Wilfrid Peacock, senior NCO Richard Jaeckel as Pvt. Omar Greco, former circus acrobat, point man Richard Dawson as Pvt./Cpl. Hugh MacDonald, section leader Tom Troupe as Pvt. Al Manella Luke Askew as Pvt. Hubert Hixon Bill Fletcher as Pvt. "Bronc" Guthrie Jean-Paul Vignon as Pvt. Henri Laurent, combat medic Tom Stern as Capt. Cardwell, Garrison CO of Fort William Henry Harrison Michael Rennie as Lt. Gen. Mark W. Clark, Commander of the U.S. Fifth Army Carroll O'Connor as Maj. Gen. Maxwell Hunter, Frederick's direct superior Dana Andrews as Brig. Gen. Walter Naylor Gretchen Wyler as The Lady of Joy Paul Hornung as The Lumberjack Patric Knowles as Adm Lord Mountbatten, Chief of Combined Operations Headquarters Wilhelm von Homburg as Fritz (as Wilhelm Von Homburg) Gene Fullmer as The Bartender Maggie Thrett as Millie James Craig as Maj. Gen. Knapp Donald Ein as Gen. Jensen Dick Simmons as Gen. Bixby (as Richard Simmons) Norman Alden as The M.P. Lt Karl-Otto Alberty as German Officer [img]http://versuspunk.files.wordpress.com/2011/08/the-devils-brigade-movie-poster-1968-1020463241.jpg[/img] Directed by Andrew V. McLaglen Produced by David L. Wolper Screenplay by William Roberts Based on The Devil's Brigade by Robert H. Adleman & George Walton Music by Alex North Cinematography William H. Clothier Editing by William T. Cartwright Studio Wolper Pictures Distributed by United Artists Release dates May 15, 1968 (US) Running time 130 minutes [img]https://encrypted-tbn0.gstatic.com/images?q=tbn:ANd9GcTJy0Z6agdTE8nifHf6aug8sPaCMUxLZzr7w1yoUnsh4_o9o3xk[/img]
monsieur rick
The Devil's Brigade is a very good and entertaining war film that tells the story of a team of Special Forces mixed up of Canadian and American soldiers during the Second World War. Although not perfect, this is still an engaging movie that is a must see for any war film fan. The cast do a fine job with the material, but it could have been done better at times, considering that the real life Devil's Brigade are true icons of Special Forces warfare. The true story is quite interesting, and this film can peek your interest into the subject as well. However there are parts that are pretty slow, and really should been reworked a bit to really make this a standout war film. The film was viewed as a rip off of the Dirty Dozen, but that is not true. I view them to be separate movies, and each is very different. What we have here with the Devil's Brigade is an exciting war film that chronicles the exploits of the famed regiment. This is a film that is worth seeing if you're interesting in a true story about some truly courageous soldiers. The film may be inaccurate at times, but it has enough going for it to make for a worthwhile film going experience. The Devil's Brigade is an entertaining film that is sure to appeal classic war film fans as well as history buffs. However to get the full story of the brigade, read up on them in books and multiple articles on the net. This is an entertaining film, but one that leaves a lot to be desired. Despite this, it's a film worth seeing.
I thought it was a very good movie. I never knew that durring World War II there ever was a group of Canadians and United States troops that worked together in any kind of training in the United States and The United States Troops were the ones that were the worst trained. I never knew The Canadian Army played bagpipes. My favorite parts are the bar fight and ceaching all the prisoners.
STCENTERPRISE .
The Devil's Brigade Quotes
There are no approved quotes yet for this movie.
Discussion Forum
Discuss The Devil's Brigade on our Movie forum!