Devil's Den
(2007)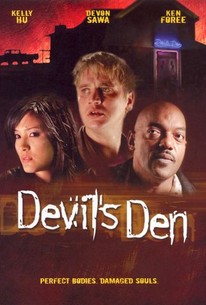 AUDIENCE SCORE
Critic Consensus: No consensus yet.
Movie Info
A pleasure-seeking group of twenty-somethings enter a strip club with no cover charge, only to discover that the satanic establishment requires them to check their souls at the door in a terrifying tale of diabolical lap-dances starring Final Destination's Devon Sawa. Though the dancers at the club may be out of this world, there's a very good reason for their exotic and irresistible features. Now, in order to make it through the night alive, the gentlemen in this club will have to do battle with a hideous horde of blood-drinking she-demons whose power is drawn directly from the lord of the underworld. X2 star Kelly Hu and horror legend Ken Foree co-star in Leatherface: Texas Chainsaw Massacre 3 director Jeff Burr's slick and sexy strip joint shocker.
Audience Reviews for Devil's Den
I am not quite sure why you would decide to make a complete rip-off of From Dusk Till Dawn about ten years later, but that is what The Devil's Den is. Plus, any film that features "Spanish Fly" as a plot point is destined to be crappy. Still, I watched it. Why? I don't know precisely. Besides featuring horror legend Ken Foree (Dawn of the Dead), The Devil's Den has little to offer besides some lame strip club scenes in the beginning and some even lamer battles with the undead that drag on way too long despite the film only being 84 minutes long.
Al Miller
You don't know who Zatoichi is? Two friends who have lived a life of failed get rich schemes wander into a strip club full of ghouls. Luckily for them, they will also encounter a professional super natural killer and a hot government assassin. The two buddies, the super natural killer, and the assassin will do their best to kill all of the ghouls. "I can't believe I'm in a strip club full of vampires." "You should have stuck to masturbation." "It was getting old." "You should try some toys. It makes all the difference." Jeff Burr, director of Stepfather II, Texas Chainsaw Massacre III, Puppet Master 4 & 5, American Hero, Straight into the Darkness, and Resurrection, delivers Devil's Den. The storyline for this movie is fairly awful and an obvious knockoff of Dusk till Dawn. The acting was pathetic despite a worthwhile cast and the cast includes Kelly Hu, Devon Sawa, Ken Foree, and Karen Maxwell. "I should have ate you while I had the chance." I decided to give this a shot since it starred Kelly Hu, the kid from Final Destination, and the guy from the original Dawn of the Dead. Well, this was a huge disappointment and has nothing going for it. The movie is a cheaper version of Dusk till Dawn and the ghoul strippers never even get naked. Overall, I'd recommend skipping this picture. "The woman was bigger than the donkey." Grade: F+
Kevin Robbins
It takes a really bad movie to force me into fond reminiscence of 'From Dusk Till Dawn.' That's what this movie tries to offer but only manages a protracted exercise in vampiric boredom. While the characters in FDTD were repulsive, at least they were memorable. If you're expecting boobs and blood, there's precious few of the former and a sizable sluice of the latter but tapped through repetitive action scenes.
Doctor Strangeblog
Super Reviewer
Devil's Den Quotes
There are no approved quotes yet for this movie.
Discussion Forum
Discuss Devil's Den on our Movie forum!