The Devil's Double
(2011)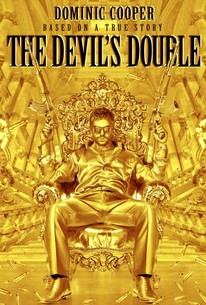 The Devil's Double Videos
The Devil's Double Photos
Movie Info
Summoned from the frontline to Saddam Hussein's palace, Iraqi army lieutenant Latif Yahia (Dominic Cooper) is thrust into the highest echelons of the "royal family" when he's ordered to become the 'fiday' - or body double - to Saddam's son, the notorious "Black Prince" Uday Hussein (also Dominic Cooper), a reckless, sadistic party-boy with a rabid hunger for sex and brutality. With his and his family's lives at stake, Latif must surrender his former self forever as he learns to walk, talk and act like Uday. But nothing could have prepared him for the horror of the Black Prince's psychotic, drug-addled life of fast cars, easy women and impulsive violence. -- (C) Lionsgate
Rating:
R (for strong brutal bloody violence and torture, sexual content, graphic nudity, drug use and pervasive language)
Genre:
, ,
Directed By:
Written By:
In Theaters:
On DVD:
Box Office:
$1,357,042.00
Runtime:
Studio:
News & Interviews for The Devil's Double
Critic Reviews for The Devil's Double
Audience Reviews for The Devil's Double
A lazy and badly directed movie that depicts Uday Hussein as a ridiculous caricature in what is a redundant story devoid of any subtlety. Besides, Dominic Cooper is such a mediocre actor, unable to lend any sort of complexity to the two identical main characters.
Carlos Magalhães
Super Reviewer
½
An Iraqi army conscript is forced to become the body double of Saddam Hussein's psychotic son and finds himself losing his identity as he drowns in a sea of depravity and murder. There have already been a slew of projects based on the Iraq war and The Devil's Double is an interesting film in that it shows the other side of the conflict, to some extent at least. Dominic Cooper makes a decent fist of playing both the pampered, debauched and sadistic member of the Iraqi elite and his moral, working class impersonator who is appalled by the behaviour of those who rule. Sort of a bizarre cross between such diverse stories as The Prisoner Of Zenda, The Last King Of Scotland and Scarface, the excesses and violence of The Devil's Double are counterpointed by the even more bizarre fact that it is actually a true story. I think it would have been better for the greater context of the life of ordinary Iraqis of the time but it still makes for a shocking and brutal journey through the looking glass into Saddam's world.
½
This film confers on the supposedly true story of Iraqi soldier Latif Yahia (Cooper), who was taken from the front lines in 1987 to be the body double of Saddam Hussein's son Uday Hussein. Though this story cannot be confirmed because body doubles are confidential and reputed by the Iraqi government, it does have all the makings of being true, what with the ill will that Hussein's subjects had towards him. The film really revolves around the disgusting actions of Uday Hussein, which have been documented, including his abduction and rape of young girls, his berserk murders of government officials, and his eventual assassination attempt. From Latif's perspective he is encased in the bureaucracy of the country, and has to do the bidding of the contemptuous heir to save his family from direct violence. Based on Uday's evil tirades against his own people and his brutish behavior as observed from countless witnesses, the events depicted did not affect me negatively, and didn't seem over the top or senseless. What bothers you as the viewer is the personality that Dominic Cooper dons in order to portray Uday Hussein. Hussein is definitely shown as being oafish with aplomb, which is again fine, but there's also this stupidity and frat boy edge to the role which makes it cartoonish at many times. This may be because of the opulence of his lifestyle, but most of the time it comes from his doddering appearance, which makes him seem mentally challenged more than malevolent. As Latif, Cooper does an outstanding job of playing the dispassionate stooge to Uday's war hungry son. The world of Iraq during the Gulf War is easily crafted, and the majesty of Hussein's world is well represented, but it simply reads as a smoke screen to the violence going on onscreen. There are some questionable performances, but at least it was intriguing to see into that world.
Spencer S.
Super Reviewer
The Devil's Double Quotes
| | |
| --- | --- |
| Latif Yahia: | You forget, I died the day I came here. |
| | |
| --- | --- |
| Uday Hussein: | My brother's, Welcome to Baghdad :) |
| Uday Hussein: | My brother's, welcome to Baghdad. |
| | |
| --- | --- |
| Uday Hussein: | Fuck! Fuck! Fuck, fuck, fuck! Fucking Kuwaitis! I fucking hate Jews, I hate horseflies and I hate fucking Persians, but I hate fucking Kuwaitis more! |
| | |
| --- | --- |
| Uday Hussein: | Ali! (tilts head towards bride) |
| Uday Hussein: | Ali! [tilts head towards bride] |
| Ali: | (nods) |
| Ali: | [nods] |