The Devil's Party
(1938)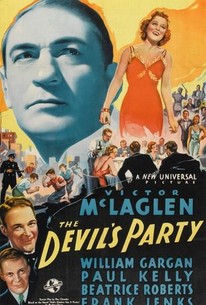 AUDIENCE SCORE
Critic Consensus: No consensus yet.
Movie Info
This melodrama chronicles the enduring friendship between four boys in New York's Hell's Kitchen. As boys, the made a pact that they would meet annually to renew their friendship. Trouble ensues when one of the boys accidently sets fire to a building. Another boy took the blame. He went to reform school. Years pass before he is reunited with his pals. Now the man is a professional gambler and nightclub owner. He sees two of his friends, who have become cops, when they come into his club to investigate a murder. As they look into the death, one of the cops is killed. The fourth friend, now a priest, makes sure that justice prevails.
Critic Reviews for The Devil's Party
There are no critic reviews yet for The Devil's Party. Keep checking Rotten Tomatoes for updates!
Audience Reviews for The Devil's Party
This Movie is from the Mill Creek Dark Crimes 50 Movie Collection. A group of young kids growing up in Hell's Kitchen form a lifelong bond. Because one refused to rat the others out, he goes to the reformatory. As adults they find their way to conflicting positions in society. Two cops, a priest, and a nightclub owner. The latter is mixed up in some shady dealings, mostly related to gambling. He hires a couple guys to rough a "client" up but they don't heed his limitations and kill the guy. This sets of a series of events where he is now under suspicion and brings about the death of one of his lifelong buddies. The film looks pretty good and it has that cool black and white element. Of course, honor is at the center, but that honor is not respected by the "really" bad guys. Victor McLaglan's character must confront his own miscues and face the music for his actions. I was surprized how much I enjpyed this Movie made in 1938. 4 Stars 3-16-14
Bruce Bruce
Super Reviewer
½
Five childhood friends, now grown up and successful each in their own different walks of life, hold their annual reunion. It's disrupted this year when the professional life of one (McLaglen)--a nightclub owner who also runs an illegal gambling operation--of the friends collide with the professional life of two others--now police officcers (Gargen and Gallaudet)--with deadly consequences for some, and tragic consequences for all. Well-acted and decently filmed--this is one of those movies that takes full advantage of the black-and-white medium, with deep shadows and creative camera-work to heighten mood--the film is nonetheless boring and predictable at every turn. It's only 65 minutes long, yet it starts dragging at about the 30-minute mark, and it feels like it's far longer than it really is. Given the overall decent quality of the film, I think it's just that this story has been told so many times (and told better) in the 70 or so years since this film was made, I think this is one movie that history has left behind, and a film that the modern viewer can safely skip. The Devil's Party Starring: Victor McLaglen, William Gargan, Paul Kelly, Beatrice Roberts, Frank Jenks, and John Gallaudet Director: Ray McCarey
Steve Miller
½
6.5/10. Solid "B" crime drama, great pace, not too long, brisk dialogue, Victor Mc Laglen does a great job and the supporting cast is top notch. Taut direction. An excellent little film.
James Higgins
The Devil's Party Quotes
There are no approved quotes yet for this movie.
Discussion Forum
Discuss The Devil's Party on our Movie forum!