The Devil's Rain
(1975)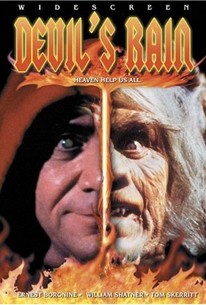 Movie Info
A man's search for his missing family leads him into conflict with a pagan cult lead by a centuries-old warlock in this supernatural thriller. The warlock is searching for a powerful occult book but must first do battle with the revenge-minded hero.
Audience Reviews for The Devil's Rain
½
Amazing movie that wastes no time getting to the good parts. Within the first five minutes William Shatner eats the whole scene and that includes a melting man, a crazy old coot, and a worried mother with nasty dreams. There is a book. Corbis, the devil's disciple, wants it. The rest of the movie deals with that, sorta, I mean it is not really clear what the rules are or how to get out of the silly situation. Still, the Satanic Church is awesome and Borgnine in goat make up is worth all the other stuff.
R.John Xerxes
An okay horror movie, it's one of those where a devil worshiping cult is trying to get revenge for the witch hunts. The biggest problem, I think, is that it takes place in the west, which doesn't make much sense. Plus, all the melting face guys get annoying after a while. A good cast, but maybe it would have been better with a different director and crew?
Seriously I thought this Movie was a Joke.
The Devil's Rain Quotes
There are no approved quotes yet for this movie.
Discussion Forum
Discuss The Devil's Rain on our Movie forum!