The Devil's Tomb
(2008)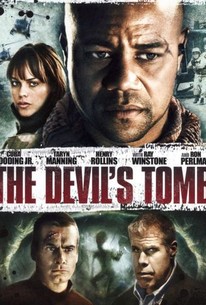 AUDIENCE SCORE
Critic Consensus: No consensus yet.
Movie Info
Cuba Gooding, Jr., Ron Perlman, and Ray Winstone star in this horror thriller following a team of mercenaries on a mission to rescue a scientist from an underground lab, where they encounter an ancient evil that threatens to overtake mankind should it find its way to the surface. Contracted to rescue a scientist (Perlman) who was trapped under the Middle East desert while researching a profound archaeological discovery, fearless war veteran Mack (Gooding, Jr.) and his squad of elite U.S. mercenaries descend far beneath the surface with no clue of the horrors that await them below. Deep beneath these desert sands dwells a thousand year old secret that's not of this earth. Guided by a mysterious priest (Henry Rollins), Mack and his team discover that some secrets are best left buried when they reach the underground laboratory and all hell breaks loose.
Rating:
R (for strong violence/gore, language and brief nudity)
Genre:
, , ,
Directed By:
Written By:
On DVD:
Runtime:
Studio:
Ice Cold Productions
Audience Reviews for The Devil's Tomb
I like Cuba Gooding Jr, I like Ron Perlman, I like "B" horror films, but I did not like this. Not one bit. Why is it that some horror films with religious overtones (an often good genre, especially when preventing hell from opening) feel the need to pile on so much made up dogma and BS? It never holds up (even assuming suspension of disbelief) and it always detracts from the story. And in a case like this when it IS the story, it leaves you with nothing but a pile of absolute rubbish.
John Wagner
It's a fucking tragedy that Ron Pearlman cannot get any decent work in movies anymore. It's an absolute tragedy. And the decent work that he DOES get requires him to be drowned in make up. It's just sad to me, that a man of Ron Pearlman's talent has to make these kinds of movies just because he isn't the most handsome man out there. Not that there's anything wrong with being in these types of movies as actors have to eat too, so I understand that. Either way, this movie wasn't that bad for a low-budget direct-to-dvd movie. I probably shouldn't judge a book by its cover as Botch (one of the more entertaining horror movies I've seen in a while) is a low-budget direct-to-dvd movie. With that said I probably enjoyed this movie due to its unintentional comedy and that's it. It's just a very campy horror movie, so nobody should expect anything revolutionary from this movie. That's all I can really say about this movie, I just "enjoyed" it for its unintentional comedy, if you want to watch this film to watch something serious then you're screwed.
Jesse Ortega
Super Reviewer
Let me be clear. I'm giving this one star for Perlman and Winstone, and them *only*. Even Gooding, Jr. falls flat. Hardly his fault, though, seeing as the script was a gigantic mess and the plot even more so. Copious amounts of gore and "Gotcha!" moments won't save a film. *Especially* not this one. [shudder] Avoid at all costs.
Jessica van der Sloot
Super Reviewer
The Devil's Tomb Quotes
There are no approved quotes yet for this movie.
Discussion Forum
Discuss The Devil's Tomb on our Movie forum!