The Devil's Tomb
(2008)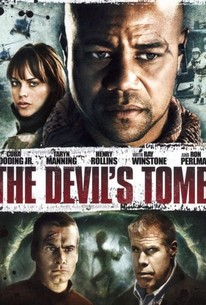 AUDIENCE SCORE
Critic Consensus: No consensus yet.
The Devil's Tomb Videos
The Devil's Tomb Photos
Movie Info
Cuba Gooding, Jr., Ron Perlman, and Ray Winstone star in this horror thriller following a team of mercenaries on a mission to rescue a scientist from an underground lab, where they encounter an ancient evil that threatens to overtake mankind should it find its way to the surface. Contracted to rescue a scientist (Perlman) who was trapped under the Middle East desert while researching a profound archaeological discovery, fearless war veteran Mack (Gooding, Jr.) and his squad of elite U.S. mercenaries descend far beneath the surface with no clue of the horrors that await them below. Deep beneath these desert sands dwells a thousand year old secret that's not of this earth. Guided by a mysterious priest (Henry Rollins), Mack and his team discover that some secrets are best left buried when they reach the underground laboratory and all hell breaks loose.
Rating:
R (for strong violence/gore, language and brief nudity)
Genre:
, , ,
Directed By:
Written By:
On DVD:
Runtime:
Studio:
Ice Cold Productions
Cast
Critic Reviews for The Devil's Tomb
All Critics (1) | Fresh (0) | Rotten (1) | DVD (2)
There are ways to get around the film's hopelessly cramped space and scope, but director Jason Connery opts to try to make an underground thriller, which just underscores the movie's cheapness at almost every turn.

The Devil's Tomb makes for passable entertainment assuming you aren't completely put off by the predictable plot machinations.

Audience Reviews for The Devil's Tomb
I like Cuba Gooding Jr, I like Ron Perlman, I like "B" horror films, but I did not like this. Not one bit. Why is it that some horror films with religious overtones (an often good genre, especially when preventing hell from opening) feel the need to pile on so much made up dogma and BS? It never holds up (even assuming suspension of disbelief) and it always detracts from the story. And in a case like this when it IS the story, it leaves you with nothing but a pile of absolute rubbish.
John Wagner
A really sub par horror film that has very very little going for it. An amazingly generic plot line that, while unimaginative and cliche, still somehow manages to lose itself. A story that seemingly exists simply to rip off other much more successful horror films such as 'Alien', 'Predator', 'Hellraiser', 'Event Horizon', and several others. The flow of the movie is slow, and seems to pull in different directions. Any momentum the film manages to generate is repeatedly destroyed by the constant interruptions by uninteresting and largely repeated flashback scenes. Despite having a recognizable cast, there is no performance worth seeing here, save Ron Perlman who only has a small role, but I always enjoy it when the devil gets philosophical. I also have to single out Henry Rollins who, while awful, was interestingly out of place as a priest. What on earth happened to Cuba Gooding Jr.?? I remember when he was an incredibly talented actor staring in good films and gaining a ton of critical praise. Somehow now he starring in direct to DVD piece of crap films turning in piece of crap performances. Some nice gore effects and boobage shots combine with the recognizable rip-off aspects of other films to keep this from being a total bomb, but there is little to recommend.
Julian Toepfer
Let me be clear. I'm giving this one star for Perlman and Winstone, and them *only*. Even Gooding, Jr. falls flat. Hardly his fault, though, seeing as the script was a gigantic mess and the plot even more so. Copious amounts of gore and "Gotcha!" moments won't save a film. *Especially* not this one. [shudder] Avoid at all costs.
Jessica van der Sloot
Super Reviewer
Discussion Forum
Discuss The Devil's Tomb on our Movie forum!
News & Features