The Dhamma Brothers
(2008)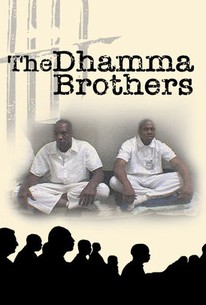 TOMATOMETER
AUDIENCE SCORE
Critic Consensus: This thoughtful if rough hewn doc about death row inmates who discover Buddhism inspires hope that all of us are worthy of redemption.
The Dhamma Brothers Videos
The Dhamma Brothers Photos
Movie Info
East meets West in the Deep South. An overcrowded maximum-security prison--the end of the line in Alabama's correctional system--is dramatically changed by the influence of an ancient meditation program. Behind high security towers and a double row of barbed wire and electrical fence dwells a host of convicts who will never see the light of day. But for some of these men, a spark is ignited when it becomes the first maximum-security prison in North America to hold an extended Vipassana retreat, an emotionally and physically demanding course of silent meditation lasting ten days. "The Dhamma Brothers" tells a dramatic tale of human potential and transformation as it closely follows and documents the stories of the prison inmates at Donaldson Correction Facility who enter into this arduous and intensive program.
Critic Reviews for The Dhamma Brothers
Audience Reviews for The Dhamma Brothers
The havoc and terror on the victims that put these criminals in a maximum security prison is not addressed fairly. The victims live their crimes everyday of their lives. If their victim was murdered, the family of that victim lives the terror and heartbreak of that crime every day. All these guys want to do is "get out" of prison any way they can. They are convicts for a reason. They murdered and wrecked the lives of so many people when they were "free." They can keep their freedom in prison through their "meditation." It's easy to be soul searching when you are locked up in a maximum security prison. They are just looking for another way out of prison. Please don't be fooled by them. Since Jesus didn't get them released... maybe Buddha will. My bet is if they get out they will just kill and terrorize again. I vote to keep them in prison where they belong.
LC Nichols
[font=Courier New][/font] [size=3][color=black][font='Comic Sans MS']This documentary is exactly what it is [i]intended[/i] to be: an excellent piece that portrays an extremely difficult process. There is no doubt that Vipassana meditation is not easily understood by those who have never undertaken to learn the technique, whether they are inmates or reviewers. However, it is incumbent on reviewers to have at least some understanding of the technique itself.[/font][/color][color=black][font=Tahoma][/font][/color][/size] [color=black][font='Comic Sans MS'][size=3] [/size][/font][/color] [color=black][font='Comic Sans MS'][size=3]Although 'Buddhism' is mentioned in the film, there is little connection between the practice of Vipassana meditation and the religion of Buddhism, other than both ostensibly derive from the teachings of the Buddha. The fact seems to have escaped a few of the reviewers of this film that the Buddha never declared his teachings (Dhamma) to be a religion nor did he wish Dhamma to be relegated to religious dogmatism.[/size][/font][/color] [color=black][font='Comic Sans MS'][size=3] [/size][/font][/color] [size=3][color=black][font='Comic Sans MS']At least one reviewer criticizes the inmates in this documentary, grandiosely pontificating "…[/font][/color][i][color=black][font='Comic Sans MS']it becomes obvious that these hardened criminals are willing to say or do anything to get something positive in their files to put before the parole board." [/font][/color][/i][color=black][font='Comic Sans MS'] If one is willing to suspend his/her [i]professional cynicism[/i] for even a moment, it becomes obvious that through the learning and practice of Vipassana meditation, these human beings have for the most part undertaken personal responsibility. They have come to realize positive personal change through their experience.[/font][/color][/size] [color=black][font='Comic Sans MS'][size=3] [/size][/font][/color] [size=3][color=black][font='Comic Sans MS']Will the inmates continue to practice Vipassana and learn from their meditative experiences? Perhaps they will, but it is too early to predict, either way. Although [/font][/color][color=black][font='Comic Sans MS']Donaldson Prison has once again resumed allowing Vipassana meditation to be taught within its confines, if[/font][/color][color=black][font='Comic Sans MS'] the inmates are to continue to use (and profit from) this unique and introspective meditation technique, they must embrace the practice on an individual as well as group basis. Perhaps in a few years we will be fortunate enough to see a [i]follow-up[/i] film produced that will allow us all to learn what progress may have been made by these same inmates. Until such time, this documentary film provides an excellent opportunity to witness the birth of something unique to the annals of prison history. [/font][/color][/size]
J Bell
[font=Century Gothic]"The Dhamma Brothers" is an insightful documentary about an intense ten day course on Vipassana meditation taught at the Donaldson Correctional Facility(which is infamous for its level of violence) in Alabama in 2002. The inmates were kept apart for the ten days, forced to adhere to a rigid schedule and were not allowed to talk to each other.(The instructors spent all 10 days in the prison, mostly with the prisoners, many of whom were in jail for violent offenses.) This meditation technique may look easy but it was not. The hard part was not on the physical side, but on the mental side as the inmates were forced to examine their lives and how they got to this place in their lives.(In a world overflowing with cell phones and iPods, we do not do this often enough.) Time will tell if this has any lasting effect. [/font] [font=Century Gothic][/font] [font=Century Gothic]The film spends too much time on the admittedly odd juxtaposition of the Bible Belt and Buddhism, relying too much on generalizations. What is definitely more interesting are the concepts of law and order. Shouldn't rehabilitation be more important in a prison than simply punishing the inmates?[/font]
The Dhamma Brothers Quotes
There are no approved quotes yet for this movie.
Discussion Forum
Discuss The Dhamma Brothers on our Movie forum!