Diaboliquement Votre
(1967)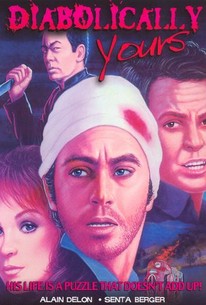 AUDIENCE SCORE
Critic Consensus: No consensus yet.
Diaboliquement Votre Photos
Movie Info
In his last film effort (he was killed in a car accident shortly after its completion), veteran French filmmaker Julien Duvivier manages to spin gold from dross in Diabolically Yours. Alain Delon stars as an amnesiac, unable to remember he is man of wealth, or where he keeps his wealth. The doctors are flummoxed by Delon's total blackout. On the other hand, Delon's wife Senta Berger doesn't believe it, nor does the family's best friend. This fitfully entertaining puzzler succeeds in leading the audience--and the characters--down several garden paths. A French/Italian/German coproduction, Diabolically Yours was originally titled Diaboliquement Votre.
Critic Reviews for Diaboliquement Votre
All Critics (1) | Fresh (1) | Rotten (0)
The film may play a little stuffy and stiff in modern eyes, with way too much chit-chat for a proper thriller, but it's an important early example of a curious sub-genre.

Audience Reviews for Diaboliquement Votre
½
the type of thriller you would expect alain delon to star in.
Stefanie C
Super Reviewer
A fairly slow moving little 'thriller' about a man with amnesia whose wife, best friend and servant all act very strange around once he returns to his villa. Worth a rental, but it's a slow burn.
Bill Bryant
Julien Duvivier is one of the pioneers of French cinema... and this film certainly is an odd choice for a swan song for the director's prolific career. This amnesic thriller has a strong narrative hook - as most amnesic thrillers do - due to the fact that we, like Alain Delon's character, have no clue what the hell is going on. He wakes up in a hospital... is told that he was just in an accident... and that he's married... and that he lives in a rich mansion... and Delon doesn't remember any of this! Is it true? At first he goes along with everything because his wife is hot and he had money to burn, but of course nothing is at it appears - as it usually is in most amnesic thrillers. The plot isn't all that surprising as it pretty much follows the same formula as every other amnesic thriller follows, so when the twists occur they're not all that surprising. Add to the fact that the pacing is sluggish and the ending is anti-climatic and you get a rather ho-hum narrative. The acting is solid but nothing noteworthy, and the direction is polished but unexceptional... indeed, everything about the product produced here is adequate and efficient but nothing is truly memorable or outstanding. An above average entry into the sub-genre but that's about as high a praise I can give this movie.
David Schwenker
Diaboliquement Votre Quotes
There are no approved quotes yet for this movie.
Discussion Forum
Discuss Diaboliquement Votre on our Movie forum!