Diary of a Big Man
(1988)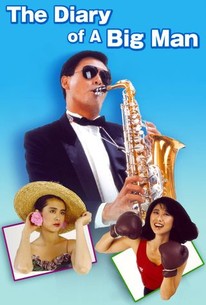 AUDIENCE SCORE
Critic Consensus: No consensus yet.
Diary of a Big Man Photos
Movie Info
Internationally renowned filmmaker Tsui Hark produced this amiable screwball romantic comedy from Hong Kong director Chor Yuen. Popular action star Chow Yun-fat plays Chow Ting-fat, a stockbroker who is in love with two different women. Joey (Joey Wang) is a beautiful boutique owner and Sally (Sally Yeh) is a glamorous stewardess. Chow wants to marry them both, and manages to do that very thing, but naturally must keep each woman unaware of the other's existence in his life. The usual farcical situations ensue, with Chow's friend Chi-hung (Waise Lee) aiding him in the constant subterfuge necessary to keep his activities a secret. One person who does notice when two different women claim to be Chow's wife is Inspector Cheng (Kent Cheng), who starts investigating Chow's situation with a grim dedication rarely seen outside of homicide units. As might be expected, Chow's luck eventually runs out after one too many near-misses, and Joey and Sally join forces to get revenge on the two-timing bigamist. It's a familiar plot, but the exuberant actors and Yuen's skilled direction make it constantly seem fresh and amusing. Carrie Ng leads an impressive supporting cast including David Wu and Shing Fui-on.
Critic Reviews for Diary of a Big Man
There are no critic reviews yet for Diary of a Big Man. Keep checking Rotten Tomatoes for updates!
Audience Reviews for Diary of a Big Man
½
An amusing film, carried by the considerable charms of Chow Yun-Fat, Sally Yeh and Joey Wang. A fun ride, proving that Hong Kong films can teach Hollywood a thing or two about romantic comedies as well as action films.
Anthony Valletta
Super Reviewer
½
Enjoyable, but can make you disgussed because of its anti-feministic plot. Cannot enjoy from the heart in conflict over moral issues. Well, you can say this eccentric setting is the essence of Hong Kong films, but eccentricity's so much in this one that characters all look brainless stupid sometimes. Chow Yun-Fat is good to do this kind of comical role and probably is only choice for this role who gets loved by two super-beautiful chicks played by Joey Wang and Sally Yeh, both in their times of being in full bloom in their careers. Produced by Tsui Hark, who constantly makes this kind of eccentric love comedies, and directed by Yuen Chor, the legendary film director of 70s Hong Kong.
Naoya Kugimiya
½
In something of a change of pace, action star Chow Yun-Fat takes the lead in a romantic comedy as a stockbroker who stumbles his way into marriage with two different women after he can't bring himself to break either's heart. With the help of a loyal friend, he attempts to balance both marriages, but eventually something has to give.... [center][img]http://www.geocities.com/nuelow/movdiarybigman.jpg[/img] [i]Chow Yun Fat is a hapless bigamist in the hilarious "A Diary of a Big Man"[/i][/center] This film takes all the twists and turns that one expects a romantic comedy to take, but it does it with a certain style and flair, and it explodes into completely unexpected over-the-top and hilarious insanity. The performances by Chow Yun Fat and Sally Yeh are particularly fun to watch as the antics unfold. One complaint I have is that the subtitles are... well, brittle. They are more difficult to read than average, something which is frustrating in a film where the patter is flying fast and furious. On the upside, there aren't many examples of the bizarre literal translations that are so common in Hong Kong flicks. Another subtitle complaint is that the featured song in the film is subtitled in Cantonese but not in English. Despite these technical gripes, this is a fun little movie that's worth watching. Diary of a Big Man Starring: Chow Yun-Fat and Sally Yeh Director: Chor Yun
Steve Miller
Diary of a Big Man Quotes
There are no approved quotes yet for this movie.
Discussion Forum
Discuss Diary of a Big Man on our Movie forum!