Die Hard Dracula
(2002)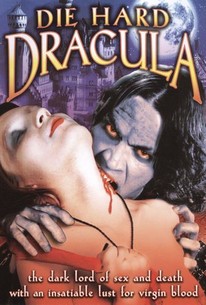 AUDIENCE SCORE
Critic Consensus: No consensus yet.
Movie Info
A vacationing American student does battle with the most notorious bloodsucker ever during a trip a mysterious Eastern European village. His girlfriend having recently died in a tragic water-skiing mishap, Steve Hillman (Danny Sachen) heads for Moravia to clear his head and soak in the sights. Once there, Steve discovers that the dreaded Count Dracula (Ernest Garcia) has turned Moravia into his own personal vampire buffet. And the villagers are powerless to stop him, until famed vampire hunter Dr. Van Helsing (Bruce Glover) shows up on the scene. Now, if Steve and Van Helsing can just get the upper hand on their two-fanged tormentor, the residents of Moravia will be able to sleep easy for the first time in a very long while.
Critic Reviews for Die Hard Dracula
There are no critic reviews yet for Die Hard Dracula. Keep checking Rotten Tomatoes for updates!
Audience Reviews for Die Hard Dracula
If Bram Stoker's mind was riddled with the worst case of ADHD known to man, his literary masterpiece would kinda resemble Die Hard Dracula, just slightly more competent, though. The plot makes no sense and having three polar-opposite looking actors play one Dracula makes even less sense. But it's got its own flying coffin, and despite the poor acting, lousy effects and humorless jokes (at least the intentional ones), how many other films can honestly say they have the benefit of featuring one of those? Full review at http://silverscreenfanatic.com/2015/04/06/what-the-hell-were-they-thinking-66/
Benjamin Marlatt
After his fiance (Dustin) drowns, Steven (Sachan) goes on a European vacation to get over his loss. He goes to the vacation destination of vacation destinations--Transylvania--where he encounters a woman who is the exact double of his dead love (also played by Dustin). When Count Dracula (Garcia and McGowan) choose the young woman to be his new vampire bride, Steven joins forces with vampire hunter Dr. Van Helsing (Glover) to keep from losing the love of his life a second time! "Die Hard Dracula" is truly awful movie, a near complete failure at making a horror/comedy. It's "Plan 9 From Outer Space" awful, which means it's just about unwatchable. With a barely coherent plot, badly written dialogue, atrocious acting and even worse special effects, this movie isn't even fit to be screened at a Bad Movie Night. It fails completely as a horror movie, and its comedic aspects are only midly funny, so it really is a movie that one has to struggle to get through. So, why am I giving it a even as high as Two? Well, despite the awfulness of the script, the cheapness of this shot-on-video-tape-and-boy-does-it-show production, an odd sort of poetry shines through every so often, sort of like in Ed Wood's movies. Further, there are a number nifty moments and ideas in the film that, if the script had been taken through more than one draft and if the budget for the film had been larger than what I spend whenever I gas up the Saturn, I suspect this could have been a halfway decent film. So, while I will tell you in no uncertain terms to not waste your time or money on this film--should you even be able to find a copy--I give it and the creators credit for the potential that's here. It's another one of those scripts that should be the foundation for a remake but which won't, because no one in the film industry does remakes for the right (artistic) reasons. Die Hard Dracula Starring: Denny Sachan, Bruce Glover, Kerry Dustin, Ernest M. Garcia, and Tom McGowan Director: Peter Horak
Steve Miller
Die Hard Dracula Quotes
There are no approved quotes yet for this movie.
Discussion Forum
Discuss Die Hard Dracula on our Movie forum!