Digging to China
(1998)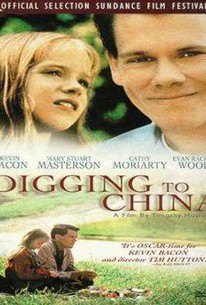 Movie Info
In mid '60s New Hampshire, Mrs. Frankovitz has two daughters, Gwen and troubled 10-year-old Harriet. One day Harriet finds a playmate -- retarded Ricky Schroth. When Mrs. Frankovitz dies, Harriet has to take orders from Gwen. When she eventually learns that Gwen is her mother, Harriet tries to run away.
Rating:
PG (adult situations)
Genre:
Directed By:
Written By:
In Theaters:
On DVD:
Runtime:
Studio:
Koch Lorber Films
Critic Reviews for Digging to China
Audience Reviews for Digging to China
A very boring movie, the movie is about a girl living with an alcoholic mother and sister that is weird. She befriend an odd fellow played by Kevin Bacon. The problem with the film was it didn't struck me once. I lost interest during the first few minutes of the film which made the movie disastrous and boring. I was no only left so bored, but filled with contempt. I wanted some batteries, so I could chuck them at the film. This could have been a better film, but it wasn't. It makes itself somewhat of a cliche.
Jose Montoya
Digging to China is the movie equivalent to being gang raped by a bunch of downs syndrome teenagers. They're too retarded to even fucking rape you right. That said this movie has countless PRICELESS scenes with Kevin Bacon playing the part of a retarded person POORLY. I can't emphasize that enough. The movie is worth that alone. Watch this when you're not feel particularly attentive and fast forward through - just stopping on the particularly tardy Kevin Bacon moments.
Horny Jesus
Ooooh, two of my favorite actors: Mary Stuart Masterson and Kevin Bacon. Great movie. Kinda like What's Eating Gilbert Grape....
Hannah Babama[lol]
Digging to China Quotes
| | |
| --- | --- |
| Ricky Schroth: | We're one big sad monster. Four legs, four arms, two heads, two noses. |
| | |
| --- | --- |
| Ricky Schroth: | I'm gonna stay the same... You like me now but, you won't like me later. You're gonna grow up... I'm not. |
| Ricky Schroth: | I'm gonna stay the same. You like me now but, you won't like me later. You're gonna grow up. I'm not. |
| | |
| --- | --- |
| Harriet Frankovitz: | Sometimes I thought my mother was smart and really beautiful. Other times I worried a nest of spiders was living in her hair and they were eating through her skull and chewing on her brain. |
| | |
| --- | --- |
| Ricky Schroth: | My mother says before I was born I was the same as everybody else, better even. My mom says I'm from a place where I'm the smartest person there, everybody sings. |