Dil Bole Hadippa! (My Heart Goes Hooray!)
(2009)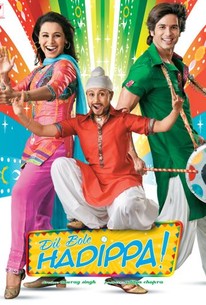 AUDIENCE SCORE
Critic Consensus: No consensus yet.
Dil Bole Hadippa! (My Heart Goes Hooray!) Photos
Movie Info
Rani Mukherjee is one of Bollywood's big-name beauties, but that doesn't stop the Saawariya star from cross-dressing in this Hindi-language romantic comedy. The actress plays a female athlete who is desperate to succeed at cricket. Rather than joining a women's team, she dons a beard and a sardar's garb and plays with the big boys. But will her dreams be deferred by a romance with a fellow player (Shahid Kapoor)? Anurag Singh directs this Punjab-set comedy that also stars Anupam Kher, Rakhi Sawant, and Sherlyn Chopra.
Rating:
PG
Genre:
, , ,
Directed By:
Written By:
In Theaters:
On DVD:
Runtime:
Studio:
Critic Reviews for Dil Bole Hadippa! (My Heart Goes Hooray!)
All Critics (2) | Top Critics (1) | Fresh (1) | Rotten (1)
Dil Bole Hadippa! is a sad commercial place holder of a movie, a product of an industry that has treading water for some time, now, patiently waiting for the next big trend.
This movie contains all the elements that make this genre enjoyable despite a cynic's better judgment: it's a simple, exuberant spectacle of colour, rhythm, and romance.
Audience Reviews for Dil Bole Hadippa! (My Heart Goes Hooray!)
This was a very fun movie. The cast was great, the songs were wonderful, and the love story was adorable.
Heather Metzger
½
Dil Bole Hadippa! (Anurag Singh, 2009) I admit it-I'm a sucker for big Bollywood productions. (Which is odd considering how much I despise most American musicals.) I'm also a very big fan of cricket and I have generally been impressed with many of the "updated Shakespeare" attempts that have come across my screen (viz. recent Coriolanus review). So what we have here is a Bollywood movie about cricket that's based loosely on Twelfth Night... it's like someone went fishing in my brain and came up with the perfect combination of stuff. Which is not to say Dil Bole Hadippa! Is the best movie in the world or anything, but for what it is, it's a barrel of fun. Plot: Veera Kaur (Veer-Zaara's Rani Mukerji) is a cricket-obsessed young woman who's sick of watching her small border town's circket squad lose to the squad of their Pakistani neighbors every year. After their eighteenth loss in a row, she goes to join up and is turned away for being a woman. Problem? Not in Bollywood, where a glamorous young lady can smack on a mustache, don a turban, and become Veer Pratap Singh, who suddenly appears out of nowhere in a small town where everyone knows everyone else, and no one questions this! (Just run with it...) Meanwhile, Vicky Singh (Bend It Like Beckham's Anupam Kehr), the squad's owner has a son, Rohan Singh (Chance Pe Dance's Shahid Kapoor), who's gone off to become an international cricket star; Vicky convinces Rohan to come back and train the squad in preparation for next year's match. So they have a trainer who knows the goods and a mysterious new star, and everything's great... until Rohan starts falling for Veera. Cue comedy of errors. There is nothing here you haven't seen before, but Singh, an associate director since the mid-nineties stepping into the big chair (this is his second film as a director), has learned his craft well; it's an engaging little movie with likable characters stuck into dumb, but funny, situations. Yes, you've got to suspend a whole lot of disbelief to get it to work, but it's a Bollywood movie-if you're not already suspending disbelief when an entire town suddenly breaks into a choreographed dance routine, you're probably watching the wrong genre. There's a fun script, a decent-if-not-yet-great director, and top-notch stars. There's singing, there's dancing, there's romance, and above all there's cricket. What more could you want? *** 1/2
Robert Beveridge
Great Movie, with great Songs. This Movie made me definetily Yash Raj Fan. I mean after watching "Ajaa Nachle" I gave many of Yash Raj Movies a chance and it turned out that his Movies are no Remakes. Original Stories.
Dil Bole Hadippa! (My Heart Goes Hooray!) Quotes
There are no approved quotes yet for this movie.
Discussion Forum
Discuss Dil Bole Hadippa! (My Heart Goes Hooray!) on our Movie forum!