Diner
(1982)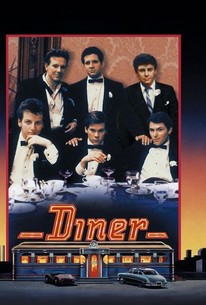 Movie Info
Writer-director Barry Levinson's autobiographical first feature fondly remembers his Baltimore youth. It's late 1959, and six guys in their early twenties are stumbling into adulthood, alternating responsibility with carefree time at their local diner. The story centers on the return from college of Billy (Tim Daly) to serve as best man at the wedding of his pal Eddie (Steve Guttenberg). Billy is consumed by a confusing relationship with a close female friend, while Eddie still lives at home, preparing a football trivia test for his fiancée and vowing to cancel the wedding if she fails. Other characters woven into the narrative include Boogie (Mickey Rourke), a womanizer with a gambling problem, and Shrevie (Daniel Stern), a music addict with a troubled marriage. Diner became known for its bittersweet comic screenplay and its remarkable cast, which also included Paul Reiser, Kevin Bacon, and Ellen Barkin. In order to capture the loose, laid-back dialogue of the diner scenes, Levinson directed them last, so that the actors would be more comfortable with each other. Diner was the first part of Levinson's "Baltimore Trilogy," followed by Tin Men (1987) and Avalon (1990). ~Rovi
People Who Like this movie also like
News & Interviews for Diner
Audience Reviews for Diner
½
A sweet bit of nostalgia tugging on your memory, Diner is less about the dramatic turns of a group of friends, and more about a simpler time when most people knew Frank Sinatra as Old Blue Eyes, and the diner was a happenin' joint. This film only exists to wax nostalgia about the fifties, and though some trivial issues are brought to light it isn't a commentary on the times or a story that has any kind of real climax. The group of friends are interesting at first, as they each have unique personalities, slights of hand, and problems that seem momentous even today, but their storylines don't go anywhere. The one marriage of the group is troubled thanks to the fact that they married young, and the way each handles the impending loneliness was interesting, but there wasn't much conclusion. The new marriage that is just beginning doesn't seem to matter so much as being a setting to further the plot. Even Fenwick (Bacon), who is by far the most interesting character, is left without much screen time. He simply plays a practical joke, shows his intelligence, vulnerability, and eccentricities (maybe a form of psychosis) and disappears from the film altogether to make room for more boring scenes that aren't strung together. If this was a film about character studies, or an actor's film I would understand not having a plot, but the characters aren't developed enough for us to care about them. This was done so much better in American Graffiti, with its long, episodic sequences and significant buildup. Here, though slightly enjoyable as it is a "slice of life" film about an innocent time to most viewers, it does fall flat on occasion. It's saved most times by Mickey Rourke, who plasters another cocky grin on his face and steals most of the scenes with his charismatic flair and debonair, nearly grungy, appeal. The rest of the cast is exceptional when they're given decent scenes to work with, but otherwise this didn't floor me or make for a feel good experience.
Spencer S.
Super Reviewer
Edward Eddie Simmons: If you want to talk, you always have the guys at the diner. You don't need a girl if you wanna talk.  "Suddenly, life was more than french fries, gravy and girls." Barry Levinson's debut film, Diner, is a truly remarkable semi-autobiographical start to his great career. The movie has no real plot, but it is just the everyday goings on for a group of friends. The group is right on the edge of adulthood. They are at that point where it is time to grow up, but they can't quite summon the courage to do so. They gather at the local diner and show that they are still teenagers on the inside. They still have that immaturity that every high school student has. They can't get together without their conversations turning to the unimportant or the immature. They'll start talking about moving on in life, getting married and all this other crap that goes along with growing up, but they will always come back to the same core issues. I definitely watched this movie at the right time of my life, as I am very much on that same edge of immaturity and adulthood; not quite wanting what I have now, but not ready to move on. It is an interesting time. I really enjoyed watching this slice of life film. I loved listening to the characters conversations because they are so true to life. When people this age get together this is what they are going to talk about. They are going to make bets to see if they can get a girl to touch them on the first date. They are going to fight over who the best musician is. This is life at that age. Even the one married character in the film can't grow up. He  whines about how his wife messes up his record collection. Oh my God, she but Jackson Browne in with the Rock N' Roll. That's what the characters really care about. The cast was amazing in this film, which would become a staple of most Levinson films. Mickey Rourke is always the standout in my opinion, especially in his younger days. He is just the definition if cool in almost every role he had. You can't beat his dick in the popcorn scene either; extremely hilarious. He plays a lady's man gambler. He gets himself into some trouble when he runs up a big betting debt and he has to scramble and make more bets to try to pay it off.  Diner is a really enjoyable time. If you enjoy the type of movie, where nothing much happens plot wise, but it is all character driven; this is for you. If you are one of those people that needs a lot of action to keep you entertained and can't just watch people talk back and forth, then I would stay clear of this one.
Melvin White
Super Reviewer
Mickey Rourke used to have a voice.
Coxxie Mild Sauce
Super Reviewer
Diner Quotes
| | |
| --- | --- |
| Robert "Boogie" Sheftell: | Nobody bets 2,000 dollars and doesn't remember. |
| Bagel: | Nobody bets 2,000 dollars and doesn't remember. |
| Robert "Boogie" Sheftell: | Look, the game's a lock. |
| Robert 'Boogie' Sheftell: | Look, the game's a lock. |
| Bagel: | Nothing's lock, Boog. Nothing's a lock. |
| | |
| --- | --- |
| Timothy Fenwick Jr.: | I'm going to Europe. |
| Diane: | Why don't you travel around the United States. |
| Timothy Fenwick Jr.: | It's been done. Europe'll be a smile. |
| | |
| --- | --- |
| Robert "Boogie" Sheftell: | If you don't have good dreams, Bagel, you have nightmares. |