Dinner With a Vampire
(1988)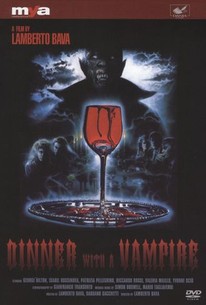 AUDIENCE SCORE
Critic Consensus: No consensus yet.
Movie Info
Four aspiring scream queens and a male comic, all seeking to break into the movie industry, are summoned to the castle of a reclusive horror director named Jurek (George Hilton), a charming bloodsucker who invites them to partake in a macabre game of survival. Awoken from his centuries-long slumber by a curious film crew, Jurek quickly adapts to the contemporary world by becoming a successful filmmaker. His bloody hits are box office gold, and the opportunity to appear in one of them could provide an aspiring actor with their big break. When his guests arrive to discuss their audition for Jurek's next feature, he reveals himself as a vampire and challenges to kill him before dawn, or die trying.
Critic Reviews for Dinner With a Vampire
There are no critic reviews yet for Dinner With a Vampire. Keep checking Rotten Tomatoes for updates!
Audience Reviews for Dinner With a Vampire
½
What we have here is the fourth and final full length TV made film by Lamberto Bava for his cable show "Brivido Giallo" (preceded by "Graveyard Disturbance", "Until Death" and "The Ogre"). Bava goes for a more comical approach to the horror, much like his first film in the series "Graveyard Disturbance." I am proud to exclaim that this time around the result is better, if not still seriously flawed by its botched comical approach. Well we have four wanna-be actors audition for roles in a new horror film by a renowned and reclusive director. They are invited to his castle for a rehearsal and dinner and thanks to the title we know he is a vampire, a vampire sick of living. You see his human side is bored with life and wants to die but his vampire half won't allow suicide as an option so our four hand-picked numbskulls have the night to figure out how to kill the bastard before coming a midnight snack. Like "Graveyard Disturbance" Bava attempts to mix Italian horror with a teen comedy and the result is a little shaky, but overall a better film product than his previous outing. Much like "Graveyard Disturbance" most of the humor falls flat, and makes one groan more in agony instead of laughing. These four numskulls that our vampire "carefully selected" are absolute dip-shits. I mean if he truly wanted to die then wouldn't he have picked some intelligent horror fanatics with knowledge about vampirism and not airheaded dancers and singers? Mario Bava's wonderful style still shows through its TV production limitations as the film is gorgeous to look at. Bava, like his father Mario and teacher Dario Argento, had a knack for style. The castle location the film was shot at is also beautiful and bizarre, definitely not the typical castle interior with its complex tile designs. Not your typical gothic castle which is a breath of fresh air. The cast is mostly made up of no-bodies but two really shine. The first is Patrizia Pellegrino, and absolute gorgeous blond Italian pop singer doing this acting gig on the side. She plays, what else, but a singer. Though acting is not her strong point, at least she was great eye candy. The actor that really steals the show is George Hilton, a famous Italian actor mostly known for his Spaghetti Westerns and Gialli throughout the 60s and 70s. He had all but disappeared from the Italian film market by 1986 so it's great to see him back in action, and having a ball doing it. Though seriously flawed by its failed teen comedy and horror mixture, "Dinner with a Vampire" was still a lot of fun. Bava's wonderful style, despite TV movie limitations, really shines and George Hilton seems to be having a wonderful time hamming it up as a vampire that wants to die. Mix that with another catchy score by Simon Boswell (even re-using a song from "Graveyard Disturbance") and some nifty special effects and you have a really obscure Italian horror feature that should appease fans of Euro cult films.
Eric Reifschneider
½
is this a comedy? I think it is meant to be by the hunchback knock off of marty feldman's EYEgor from Young Frankenstein. Speaking of that, you straight spined jerks need to stop making fun of us hunchbacks. Some of us can cook and walk properly and not speak in a slurring slapstick pratfall accent born out of bad Romanian imitations! Seriously. But no one suffers as much as vampires in this L.Bava made for tv stinkfest. Mainly, vampires are seen as so bored that they construct elaborate suicide games. Sure they evolved out of Cross and Garlic fears, get to run big corporations and enjoy making horror movies about themselves. They are still doofuses. Poor George Hilton. Still I liked the movie. Yvonne Scio, yowsa! Plus Bava is in great atmospheric form. The Location is beautifully filmed and the trapped dorks are a good lot of screamers. So in the end, everything works out. Even the handmade special effects!
R.John Xerxes
Dinner with a Vampire is one of Lamberto Bava's TV movies, but it surprisingly entertaining despite that fact. Dinner with a Vampire is a far cry from Bava's classic Italian horror films of the early 80s: Demons, Demons II, Macabre, Blade in the Dark, Delirium: Photos of Goia, etc. However, it is still a rather engaging blend of Hammer-style vampire horror and 80s-teen-sci-fi/horror-comedies: My Science Project, My Best Friend is a Vamnpire, Teen Wolf, The Lost Boys, etc. Dinner with a Vampire is a stupid, cheep-looking, and derivative piece of horror cinema, but it is sitll delightful and hilarious nonetheless, partly because of its toungue-in-cheek deconstruction of the vampire film genre but mostly because it doesn't give a crap about what you tihnk about it. It's a film about a group of wannabe actors who follow a job proposal to a mansion where the supposed producer turns out to be a vampire and shows them old vampire films in the process. I thoroughly enjoyed this film even if it was not up to the level of Bava's previous achievements.
Al Miller
Dinner With a Vampire Quotes
There are no approved quotes yet for this movie.
Discussion Forum
Discuss Dinner With a Vampire on our Movie forum!