Dinosaurs: Giants of Patagonia
(2007)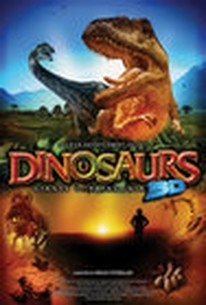 Dinosaurs: Giants of Patagonia Photos
Movie Info
Since the discovery of the very first fossil, dinosaurs have captured the imagination of historians both young and old. They are the planet's greatest mystery. How is it that these enormous, majestic beasts could have simply disappeared from the surface of the planet? In this release, amateur paleontologists are invited to take a 3-D voyage into the prehistoric world as the foremost scientists and researchers on the era explore the greatest paleontological discoveries made by man in addition to offering groundbreaking computer-generated footage of such dinosaurs as the Giganotosaurus and Argentinosaurus. ~ Jason Buchanan, Rovi
Critic Reviews for Dinosaurs: Giants of Patagonia
Audience Reviews for Dinosaurs: Giants of Patagonia
I know that this film was designed to be seen in 3-D IMAX so I cannot give an accurate representation of the theater effect, considering that I watched this in my living room on a 32-inch screen. In the end, 40 minutes just is not enough time to take an audience through the evolution of dinosaurs to their extinction. The largest impression left on me was when the comets started hitting and it finally hit me that the movie only had three minutes left. The dinosaurs are fake enough that children won't be scared but computer animated well enough that we get an accurate picture of Prehistoric life. There was a definitive moment of "Finally!" when some of the dinosaurs began to fight but overall, "Dinosaurs: Giants of Patagonia" is just a textbook telling of the lifetime of a few dino species.
Jonny Priano
I remember watching this film at 9 am(because that was the only time you could watch it at the theater at that time) and Loved it. Plus it was in 3D! To those who love dinosaurs, I strongly reccomend ths film. Critics gave it 100% on Rotten Tomatoes for crying out loud! Looking at how much the audience(at the moment) likes this movie(52%), this film is surley underestimated!
Robert Galvin
Nice educational showcase for 3D/IMAX technology.
Randy Tippy
Super Reviewer
Dinosaurs: Giants of Patagonia Quotes
There are no approved quotes yet for this movie.
Discussion Forum
Discuss Dinosaurs: Giants of Patagonia on our Movie forum!