Dinosaurus!
(1960)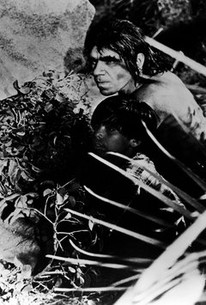 Movie Info
Slipping along an ill-defined track between seriousness, subtle farce, and all-out slapstick, this sci-fi comedy-drama by director Irvin S. Yeaworth, Jr. (The Blob, 1958) would be entertaining enough for the moppet set and highly amusing in many spots for adults as well. What sets the ball rolling is that a tyrannosaurus rex, a brontosaurus, and a neolithic man are brought back to life from their prehistoric world. As desperate leaders of the modern world try their best to kill off the carnivorous tyrannosaurus rex, the caveman is receiving high-voltage culture shock from the "civilization" he encounters all around him. One sequence has him coming face to face with a woman in full make-up -- and both go screaming off in terror. Gregg Martell is the confused Neanderthal, Julio (Alan Roberts) is a boy who tries to make friends with the brontosaurus, and Mike Hacker (Fred Engelberg) is the requisite villain.
Rating:
NR
Genre:
,
Directed By:
Written By:
In Theaters:
On DVD:
Runtime:
Studio:
Universal Pictures
Critic Reviews for Dinosaurus!
Audience Reviews for Dinosaurus!
½
I loved this movie a lot as a kid and I still do. The dinosaurs looks nice despite their inaccuracies. The are many flaws in the movie, and the caveman felt unneeded yet essential to the story. Interesting characters and a great climax.
Wes Shad
½
This is one of those movies you can't take seriously. The stop motion animation is amateur, yet, this becomes a silly/cute quirk especially when the T-Rex finally gets ahold of the leading lady. The actor's take themselves way to seriously. The little boy, Julio, is exactly like Beaver Cleaver. If you're ready to laugh at old school B-Movies, this is the film you're looking for!
Dilla N.
Bless the wonders of Netflix Instant Queue! I would have never even heard of this delightful slice of almost 50 year old chesse any other way! No, it's not good. But it's entertaining! An insanely ridiculous premise teamed up with some silly stop motion animation and you get DINOSAURUS! Any movie with an '!' at the end of it, deserves a look! Besides, where else would you get a character named 'Dumpy'?!
James Bond, Jr.
Super Reviewer
Discussion Forum
Discuss Dinosaurus! on our Movie forum!