The Disappearance of Flight 412
(1974)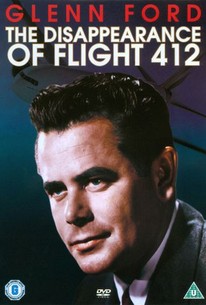 AUDIENCE SCORE
Critic Consensus: No consensus yet.
The Disappearance of Flight 412 Photos
Movie Info
When two Air Force jets disappear after pursuing a UFO in this TV movie, officer-in-charge, Colonel Pete Moore, is ordered by his superiors to quarantine his crews and cover-up the incident. However, the Colonel has other ideas and mounts his own investigation.
Rating:
R
Genre:
, ,
Directed By:
Written By:
In Theaters:
On DVD:
Runtime:
Studio:
Cinemobile Productions
Critic Reviews for The Disappearance of Flight 412
There are no critic reviews yet for The Disappearance of Flight 412. Keep checking Rotten Tomatoes for updates!
Audience Reviews for The Disappearance of Flight 412
So slow and boring, and it doesn't lead any where. It starts off looking like it might be interesting, but by the end it's just a lot of people talking and nothing gets resolved. Skip it if you wish.
Wes Shad
½
Pscho-thriller that pits the individual against the military establishment. A television film that shows its poor quality, yet the cast and plot make up for that. Recommended. [img]http://upload.wikimedia.org/wikipedia/en/thumb/6/63/Poster_of_the_movie_The_Disappearance_of_Flight_412.jpg/220px-Poster_of_the_movie_The_Disappearance_of_Flight_412.jpg[/img] Glenn Ford along with a cast of television stars of the time make a compelling and interesting film. Not entirely a UFO sci fi film, but its more of some vast coverup to prevent panic. The victims of this cruel charade are those, like truth-seeking Glenn Ford who becomes some ex-team player in a nation where the team isn't worth playing for. [img]http://t1.gstatic.com/images?q=tbn:ANd9GcQjWG8nQWObyJC0vZ9AOLp8cevTB4QNYiNgQFJ3JT-IDxyf7kng[/img] Glenn Ford, shown here, is a tremendous actor spanning years of a movie and television film career SEE the entire film here: http://www.youtube.com/watch?v=8Ghg3p3AXWQ&list=PL9C5D4B99079364CD&index=12 [img]http://t3.gstatic.com/images?q=tbn:ANd9GcTtIg7Ig3ZE85hoL7RJRKPJh09SL-ikYj6j7eRxT6KRTLCW_vh8Bw[/img] Somewhat disappointing is the airplane itself. To hijack a plane like this is a bit weird but I guess it served its purpose REVIEWS: 50% Slightly above average made for television film, helped tremendously by the presence of Glenn Ford. Reasonably suspenseful. Cast Glenn Ford as Col. Pete Moore Bradford Dillman as Maj. Mike Dunning David Soul as Capt. Roy Bishop Robert F. Lyons as Ckapt. Cliff Riggs Guy Stockwell as Lt. Col. Trottman Greg Mullavey as Lt. Tony Podryski Stanley Bennett Clay as 2nd Lt. Ferguson (as Stanley Clay) Jonathan Goldsmith as Smith (as Jonathan Lippe) Jack Ging as Green Ken Kercheval as White Directed by Jud Taylor Produced by Gerald L. Adler Written by George Simpson Neal R. Burger Music by Morton Stevens Cinematography Robert B. Hauser Editing by Carroll Sax Distributed by NBC television Release date(s) October 1, 1974 Running time 72 minutes [img]http://t0.gstatic.com/images?q=tbn:ANd9GcR0PR-XIO-K2SrSV_iUg_y7B2Gq_n1TWiyZE6fIWCLPtSitCGnFbQ[/img] The crew and Glenn Ford, its colonel who has the guts to investigate
monsieur rick
This is a UFO Buff's film, also the movie has a few pic's of vintage military aircraft, the F-4, EA-6, and a few others, nothing that rare in the way of Aircraft. It was produced by Cine Films Inc, and it was the last picture they produced in there 2 year exsistance (If that tells you anything). Glenn Ford play's a military capatain who supports his men no matter what. My guess is that Glenn took this part with the lack of work during the 1974 period. It is a rather boring movie, it might be enjoyed by Art Bell Fans or Coast to Coast AM Fans (one in the same). But as for me, I am glad I watched it durning daylight hours or I am sure I would have fell asleep. I got this in the Mill Creek 50 Movie Pack Nightmare Works Collection. And if you have a nightmare from this film, I suggest you seek medical attention right away. 1/2 star for this one. If the inlaws show up play it, they might leave early.
Bruce Bruce
Super Reviewer
The Disappearance of Flight 412 Quotes
There are no approved quotes yet for this movie.