Apocalypse L.A. (Disaster L.A.)
(2014)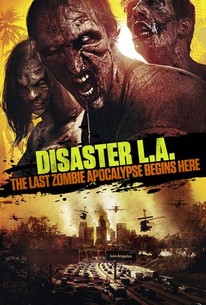 AUDIENCE SCORE
Critic Consensus: No consensus yet.
Apocalypse L.A. (Disaster L.A.) Videos
Apocalypse L.A. (Disaster L.A.) Photos
Movie Info
The City Of Angels Has Gone To Hell Stay Indoors. Do Not Attempt To Vacate The City. Stay Away From Other People.
Critic Reviews for Apocalypse L.A. (Disaster L.A.)
Audience Reviews for Apocalypse L.A. (Disaster L.A.)
If you like your zombie movies where the main dish is Cloverfield with a side dish of hipsterism, then this is the movie for you. And what I mean by hipsterism isn't in its themes or ideals, just the overall look of the group the film focuses on screams hipster. That's not really a problem for me since I don't really care what a person identifies themselves as as long as they are happy and aren't actually harming anybody, but the internet hates hipsters for one reason or another. I don't mean to get into that because I think it's pointless to argue with which "scene" a person identifies themselves with, since I'm pretty sure there's something to dislike about every "scene" that's out there. But just as a fair warning to those who really care about such things, this movie has its fair share of hipsters. This movie isn't really frustratingly bad, but it doesn't offer anything than a regurgitation of Cloverfield, as the sole professional review pointed out here. That's all it is, down to the main character feeling the need to go "save" his ex-girlfriend, who dumped his for this utter douchebag. The latter part of the film wasn't present in Cloverfield, but that's the only thing that sets it apart. But this wouldn't be such a big issue if the film had some decent gore and thrilling moments, but, of course, the film fails at that. I don't have so much of an issue with films shamelessly copying more famous films, like Asylum doing mockbusters like Transmorphers, but at least make them entertaining. How many slashers have I enjoyed that weren't exactly the most unique films in existence? I've lost count with how many unoriginal, but fun, horror movies I've seen. I just feel that there's no real sense of danger, part of that is the budget, which isn't really their fault, but there's no urgency to the events. It relies heavily on computer graphics to sell the destruction of L.A and I just wasn't having it. How much can you really hold it against them, though? Not having the budget to make L.A truly look like a disaster zone and then having some left over for the zombie make-up they employed. Which is another thing. It started off fine enough, not particularly good, but it could've been much worse, somehow, as the film progressed, the make-up effects for the zombies got worse and worse. And a lot of them also had some really bad wigs on them. Almost as if they had to reuse the same person over and over again for the zombie attacks and the only way to change it up was to give them a different wig. It was really bad. And the make-up, as mentioned, kept getting worse as the film progressed. It was really the strangest thing. The acting could've been considerably worse, but, again, there's no real reason why you should care for any of the characters as their personalities aren't really that well-developed. I did like the last shot of John and Tori sitting on the coast as they see a ton of military planes getting ready to drop nuclear bombs on the place. I thought that visual was, at the very least, cool. It's really the only good cool thing about the film. The acting isn't awful, but that's hardly a positive. Perhaps the other thing I can say is that it really isn't as bad as you would imagine it to be considering everything I've just gone over. Still, all things considered, this is a fairly bad movie. Only reason I rented it was because I got a discount from Redbox and I wanted to, at least, have one horror movie per each rental, at least this month, so there you go. If it wasn't for that, there's no way I would've watched this. Take that as you will. Very little to like here.
Jesse Ortega
Super Reviewer
Apocalypse L.A. (Disaster L.A.) Quotes
There are no approved quotes yet for this movie.
Discussion Forum
Discuss Apocalypse L.A. (Disaster L.A.) on our Movie forum!