Disco Godfather
(1979)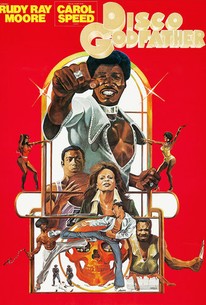 Movie Info
J. Robert Wagoner directs the 1979 blaxploitation-martial arts classic Disco Godfather. Rudy Ray Moore stars as Tucker Williams, an ex-cop and resident DJ at the nightclub Blueberry Hill Disco. When his nephew Bucky (Julius J. Carry III) gets mixed up with drugs, Tucker is motivated to start some violence. With the help of plucky Noel (Carol Speed), Tucker takes on major angel dust dealer Singer Ray (James H. Hawthorne). Also memorable are the disco dance production numbers in amazing sparkly costumes, the hallucinogenic PCP segments, and the repeatable catch phrases.
Critic Reviews for Disco Godfather
Audience Reviews for Disco Godfather
½
By the late seventies Blaxploitation was all but dead but trust Moore to keep the torch burning. This movie is hilarious, especially when it tries to hammer home it's "drugs are bad" message. Fans of disco really need to see this as it's a fantastic time capsule of the era, featuring some brilliant footage of Moore MC'ing, urging the crowd to "Put your weight on it!". The soundtrack is a DJ's dream and I've started slipping it into my own Friday night sets. Moore tries to replicate the effects of Angel Dust to hilarious effect in the movie's bizarrely surreal climax.
The Movie Waffler
Super Reviewer
Watchable for some occasionally hilarious one-liners, and to see the honest "stop doing drugs" message crash and burn along with horrible acting, a transparent plot, painfully bad "drug sequences", disco-dance sequences, laughable kung-fu "action" sequences... the list goes on. A cinematic index of 70's stereotypes, classic badly-done Blaxploitation.
Daniel Hetteix
Super Reviewer
Disco Godfather Quotes
There are no approved quotes yet for this movie.