Disco Godfather
(1979)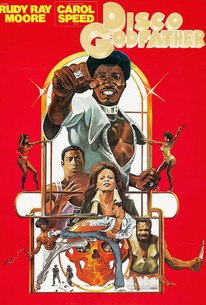 Movie Info
J. Robert Wagoner directs the 1979 blaxploitation-martial arts classic Disco Godfather. Rudy Ray Moore stars as Tucker Williams, an ex-cop and resident DJ at the nightclub Blueberry Hill Disco. When his nephew Bucky (Julius J. Carry III) gets mixed up with drugs, Tucker is motivated to start some violence. With the help of plucky Noel (Carol Speed), Tucker takes on major angel dust dealer Singer Ray (James H. Hawthorne). Also memorable are the disco dance production numbers in amazing sparkly costumes, the hallucinogenic PCP segments, and the repeatable catch phrases.
Rating:
R
Genre:
, , , ,
Directed By:
Written By:
In Theaters:
On DVD:
Runtime:
Studio:
Transvue Pictures Corp.
Critic Reviews for Disco Godfather
Audience Reviews for Disco Godfather
Put your weight on it! A retired police officer has settled into a new walk of life as the Disco Godfather. He shows up at the spot and makes it hot. Unfortunately, the Disco Godfather's nephew dies from a new drug called Angel Dust. The Disco Godfather will stop at nothing to get the new drug off the streets. "I don't get you." "I don't get me either." J. Robert Wagoner delivers Disco Godfather (this is the only picture on his resume). The storyline for this picture is terrible and only gets worse as it progresses. The dialogue is awesome and the action scenes are okay (although funny at times). The acting is below average and the cast includes Rudy Ray Moore, Carol Speed, Julius Carry, Hawthorne James, and Fitz Houston. "Let's kick ass then." "I can dig it." I loved Dolemite and watch a lot of movies from this period. I also think Rudy Ray Moore is a larger than life comedic character that is very underrated; however, as an overall movie, this is terrible. Outside of Moore's performance, there is nothing to see here. I strongly recommend skipping this picture and watching Dolemite or Coffee. "Anyone moves gets their assholes blown off." Grade: F
Kevin Robbins
I like Rudy Ray Moore. I really do. Dolemite is awesome, this isn't. Rudy Ray seems a little out of it as he does his shtick at the disco, which is kind of entertaining but the music sucks and it very repetitious. I guess the true big difference between this and the Dolemite is that Rudy Ray isn't pimpin here and all of the coolness of the other movies just seems watered down and a cheap carbon copy. While it has the same type of low grade yet fun action sequences as his other movies, it is more laughable here and just was really hard to get through. Disco Godfather works on a bad entertainment level and sometimes I'm not in the mood for that. Scenes with Bucky and the hallucination scenes are hilariously bad. This was a severe letdown to me but it isn't an abomination.
Rodney Eckrich
½
By the late seventies Blaxploitation was all but dead but trust Moore to keep the torch burning. This movie is hilarious, especially when it tries to hammer home it's "drugs are bad" message. Fans of disco really need to see this as it's a fantastic time capsule of the era, featuring some brilliant footage of Moore MC'ing, urging the crowd to "Put your weight on it!". The soundtrack is a DJ's dream and I've started slipping it into my own Friday night sets. Moore tries to replicate the effects of Angel Dust to hilarious effect in the movie's bizarrely surreal climax.
The Movie Waffler
Super Reviewer
Disco Godfather Quotes
There are no approved quotes yet for this movie.