Distant Lights
(2004)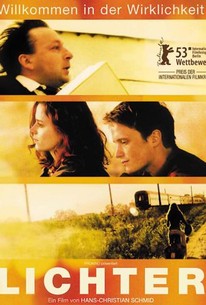 AUDIENCE SCORE
Critic Consensus: No consensus yet.
Movie Info
German director Hans-Christian Schmid teams up again with writing partner Michael Gutmann for the ensemble film Lichter (Distant Lights). The film takes place during a few days around the Oder River, which acts as a border between Poland and Germany. Several different interrelated stories involve young adults who smuggle cigarettes, a businessman who sells black-market mattresses, and a cab driver trying to get his daughter a communion dress. While trying to cross the river at night, Ukranian Kolya (Ivan Shvedov) is arrested while two other Ukranians (Sergei Frolov and Anna Yanovskaya) are helped by the cab driver. Lichter premiered at the Berlin International Film Festival.
Critic Reviews for Distant Lights
There are no critic reviews yet for Distant Lights. Keep checking Rotten Tomatoes for updates!
Audience Reviews for Distant Lights
Anothe proof of the fact that being realistic isn't enough for a movie to be good
½
The hope tomorrow brings is that it will not be today. Ignorance is bliss because in it we can project our deepest desires, and experience is not there to tell us they cannot be satisfied. And the bright city lights can be so seductive, always leading us on, always just a bit farther away, always just out of reach. Lichter is about a group of people who are convinced or have managed to convince themselves that they can push through, that by sticking to their guns and staying on course they will eventually make it out the other side. If they manage to or not is not the point, their singleminded obsession driven by a need to matter, to be significant in some way, to live up to their idea of themselves, is. Interlocking four main storylines (like "Crash" if you will) the film never descends to a level of preachiness. Yes, there are comments on Polish-German relations and illegal immigration, but the film, at its core, is about a group of people who share the same folly/glory. This played at a local film festival a few years back to mostly indifferent reactions. I found it to be one of the best films I saw there, and I saw the vast majority of them.
Distant Lights Quotes
There are no approved quotes yet for this movie.