Dive Bomber
(1941)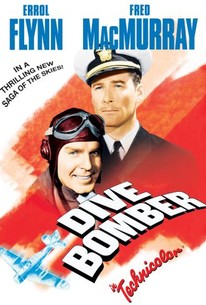 AUDIENCE SCORE
Critic Consensus: No consensus yet.
Dive Bomber Videos
Dive Bomber Photos
Movie Info
The first major prewar "preparedness" film to be lensed in Technicolor (the original prints are gorgeous!), Dive Bomber starred Errol Flynn and Fred MacMurray as Navy surgeon Lt. Douglas Lee and flight commander Joe Blake, respectively. Having helped Lee design a high-altitude pressure suit which will prevent "blackouts" during power divers, Blake intends to test the suit himself. Lee and researcher Dr. Lance Rogers (Ralph Bellamy) nix Blake's plan after several test-flight tragedies, but in the end Blake proves the efficacy of the suit-albeit at a great personal price. The landlocked romantic subplot involves the romantic rivalry between Lee and Blake over all-purpose heroine Linda Fisher (Alexis Smith). Produced with full cooperation of the Naval Air Corps, Dive Bomber was filmed on location at the Navy's air stations in San Diego and Pensacola, and aboard the aircraft carrier Enterprise. Among the Warner Bros. contractees playing the pilots are such stars-to-be as William Hopper, Charles Drake, Gig Young and Alan Hale Jr.
Rating:
NR
Genre:
, ,
Directed By:
Written By:
In Theaters:
On DVD:
Runtime:
Studio:
WARNER BROTHERS PICTURES
Cast
Critic Reviews for Dive Bomber
All Critics (2) | Fresh (0) | Rotten (2)
This is a docudrama at best, and that director, with those actors, was not the right man to make a docudrama.

Though well-crafted, it seems more geared for aviation buffs than a general audience.

Ozus' World Movie Reviews
Audience Reviews for Dive Bomber
Amazing aviation cinematography for its time! It was rather hilarious to see Errol Flynn not interested in women (for a change). Fred MacMurray gave a nice performance as the rugged counterpart to Flynn's more sensitive niche.
Katie B
½
Dive Bombers was better than what I expected, much better. I think it can be close to a good classic, exceptionally good acting (Fred MacMurry, Errol Flynn, and Ralph Bellamy), that was true to its word. they just had to cut out the lame comedy with the navy, didn't fit in at all. Although it was an Interesting and simple story, with a nice ending to end it all.
Black Richie
½
Dive Bomber was nominated for an Oscar for Best Color Cinematography at the 14th Academy Awards in 1942. An overly long and sometimes tedious film dedicated to NO dive bomber. Actually, this is nothing about dive bombers at all. Its about the development of pressurized cabins and flight suits. Gee, how "thrilling" (per the dvd cover) can this be? But at least the movie description on the backside of the dvd case tells you this isn't about action in the Pacific or anywhere else, except a cockpit or a test laboratory. More importantly, hostilities haven't even started as Pearl Harbor hasn't occured yet. Its a pre-WWII, ramp up to war story. We are treated to lots of data, charts and lab coats. High altitude flying being the goal, Errol Flynn is a British speaking doctor in the Navy among Brooklyn speaking Yanks. All of the primary actors are aged beyond being kids in uniform. Watch for the three metal cigarette cases the pilots are use at the opening moments of the film. These cases are shown constantly throughout the film and especially when a owner-pilot dies to blacking out or fatigue. None of the owners lives to the end of the movie and the last deceased owner has his tossed out of a plane by Errol Flynn in a touching (or sappy) tribute. Chain smoking throughout the film, these Navy fly "boys" and doctors light up every chance they get. Experienced Navy pilot Fred MacMurray is hostile much of the film toward flight surgeon Flynn for the death of an friend/fellow aviator. The bitterness becomes annoying as Dr. Flynn repeatedly tries to explain the death and offers friendship, but MacMurray will have none of it. A total hard ass and jerk through half the film. Eventually, even short tempered old MacMurray sees the light and together he and Flynn dream up a flight suit to allow high altitude flying. But if naval aviation and lots and lots I mean lots of shots of flyovers by navy aircraft in formation excites you, this is your type of film. You will see single wing, bi-plane, twin engine, folding wing and trainer aircraft plus others . All in well shot crisp color to this films great credit. A treasure for aviation buffs, its good to see a record of all these planes as they fly. That said, this aviation/medical film never really got off the ground for me. As a matter of fact, for me it just stayed on the ground. Could have been better titled, but such was the era of the film. How about, Flight Surgeon USN? or Blake's Way or "Give Me a Smoke" (lots of cigarettes in this one). Writes one reviewer: "Legendary Michael Curtiz directs this exciting, well paced aviation drama about two naval officers(Errol Flynn and Fred MacMurray)who put aside their personal differences to work together conducting experiments to understand and prevent pilots from suffering altitude blackouts. Visually exciting pre war flick filmed at Pensacola that in turn led to accusations that in real life Flynn aided Nazi agents." NOTES about the film: 1 1941 American propaganda film directed by Michael Curtiz. It is notable for both its Technicolor photography of pre-World War II United States Navy aircraft and as a historical document of the US in 1941, including the aircraft carrier USS Enterprise, one of the best known World War II US warships. 2 The film was the last of a collaboration between director Curtiz and actor Errol Flynn which began in 1935 and spanned 12 films. 3 The plot is not historically accurate but, depicted in a near-documentary style, the film contains elements of true events that were involved in period aeromedical research, as well as real contemporary medical equipment. 4 The film was a big hit at the box office, rounding out as the 19th highest-grossing film of 1941. 5 The film is characterized as "Warner's tribute to the pre-Pearl Harbor US Navy." 6 Although Errol Flynn had a pilot's license, he was expressly forbidden to fly in the production, under threat of suspension from Warner Bros. due to his "buzzing" the cast and crew of The Adventures of Robin Hood (1938). 7 Released just months before the Japanese attacked Pearl Harbor, the film generally was well received by the public while the US Navy lent the new Douglas dive bomber to be displayed in conjunction with film screenings at principal cities, and set up recruiting booths by the theaters. 8 The film was one of Warner's biggest hits of 1941, generating a profit in excess of $1 million. Cast: Errol Flynn Lt. Douglas S. "Doug" Lee, MD Fred MacMurray Lt. Commander Joe Blake, squadron commander Ralph Bellamy Lt. Commander Lance Rogers, MD, Flight Surgeon Alexis Smith Mrs. Linda Fisher Robert Armstrong Art Lyons - aviation designer Regis Toomey Lt. Tim Griffin Allen Jenkins Corpsman 2nd Class "Lucky" James Craig Stevens Pilot Trainee John Anthony Herbert Anderson Lt. "Slim" Markham, MD - assigned to Norfolk, identified in the credits as "Chubby" Moroni Olsen Commander Martin, Senior Surgeon at Naval Air Station North Island, San Diego Dennie Moore Ex-wife of "Lucky" James Louis Jean Heydt Lt. "Swede" Larson Cliff Nazarro Corpsman - "Lucky"'s fast-talking buddy Directed by Michael Curtiz Produced by Hal B. Wallis Written by Frank Wead Frank Buckner Based on an original story by Wead Music by Max Steiner Cinematography Bert Glennon Winton C. Hoch Editing by George Amy Distributed by Warner Bros. Release date(s) August 12, 1941 Running time 133 minutes
monsieur rick
Discussion Forum
Discuss Dive Bomber on our Movie forum!
News & Features