Divided We Fall
(2001)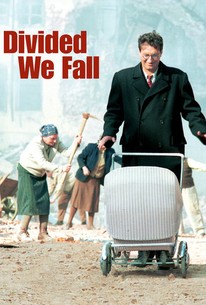 Movie Info
A man and a woman battle with deceit and infidelity as they struggle to survive Hitler's fascist regime in this period drama. Marie and Josef Cizek (Anna Siskova and Boleslav Polivka) are a couple living in a small Czechoslovakian village during the Nazi occupation of World War II. Marie and Josef's marriage is showing signs of strain as a result of the political tensions surrounding them, as well as frustrations over their inability to have children due to Josef's sterility. When a neighboring Jewish family is deported and sent to Theresenstadt, their teenage son David (Csongor Kassai) manages to escape, and the Cizeks warily agree to hide him in their home. An acquaintance of the couple, Horst Prohazka (Jaroslav Dusek), has become a Nazi collaborator and a minor local functionary with the party; he's never made a secret of his interest in Marie, and he now uses his new authority to pay a number of uninvited visits to the Cizeks' modest home. Marie and Josef begin to suspect that Horst knows they're hiding David, so when Horst asks the couple to board a Nazi clerk (Martin Huba) in their spare bedroom, they have to quickly fabricate a plausible excuse to keep him away. Marie tells Horst they need the spare room as a nursery, because they will soon be expecting a baby. Now, in order to make the lie real, Marie must convince David to impregnate her; this will keep the Nazis at bay and allow her to have the baby she's wanted, but it drives an even deeper wedge between herself and Josef. Musime Si Pomahat received its North American premiere at the 2000 Montreal World Film Festival.
Critic Reviews for Divided We Fall
Audience Reviews for Divided We Fall
Just when I thought I had enough of films inspired by the events of World War II, Divided We Fall comes with a fresh direction that left me in total awe. Brilliant rapport of comedy and severity, tense and grace infused with elaborate cinematic styles. A story of conscience, courage, compromise, and survival. Refined writing and direction! Euphoric.
Jan Marc Macababayao
Super Reviewer
½
It takes a lot for a movie to rehash the whole hiding a Jew and suffering the wrath of the Germans theme....in that sense, this movie is unique. There is a subtle comical flair to the whole movie, with the background score never displaying any tension. The character sketches are well developed and the story...a little light-hearted for the most part. However, I cannot say that it meets, or surpasses, the standards expected out of a Nazi themed movie.
Cynthia S.
Super Reviewer
Divided We Fall Quotes
There are no approved quotes yet for this movie.