Rebirth of a Nation
(2009)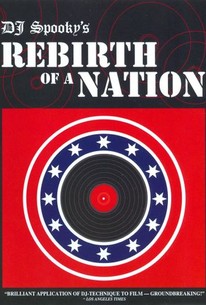 Rebirth of a Nation Photos
Movie Info
The Museum of Modern Art presents DJ Spooky's Rebirth of aNation, a weeklong run of composer, multimedia artist, and writer Paul D. Miller's (a.k.a DJSpooky That Subliminal Kid) film Rebirth of aNation (2008), a deconstruction and remix ofD.W. Griffith's highly controversial but landmark The Birth of a Nation (1915), from June 22through 28, 2009. As one of the critical repositories of the work of D.W. Griffith, MoMA willprovide audiences the opportunity to experience Miller's reworking of this American masterwork inthe context of the original with two screenings of MoMA's print of The Birth of a Nation on June 25and June 27.

Rebirth of aNation was originally commissioned as a live, multimedia performance thatpremiered at the Lincoln Center Festival in New York (2008) and was subsequently performed atmore than 50 international venues, including the Festival d'Automne á Paris, the Spoleto FestivalUSA, and the Vienna Festwochen.For the theatrical film version, produced by Starz Media/Anchor Bay Films, Miller takesGriffith's original work, which is set during and after the American Civil War and provokedcontroversy for its treatment of white supremacy and its positive portrayal of the Ku Klux Klan,and applies a "DJ re-mix." Using his skills as a DJ to mash music and film techniques, he recontextualizesGriffith's achievement and places the original film in a moral framework, drawingstriking parallels between socio-political conflicts in America during Griffith's era and today. Thefilm features Miller's original score, performed and recorded by the Kronos Quartet.Miller will be present to introduce the opening night screening on June 22, and willparticipate in a post-screening discussion.Paul D. Miller (American, b. 1970) is a composer, multimedia artist, and writer, whosework has been seen in a wide variety of contexts, including the Whitney Biennial (1997/2001);The Venice Biennial for Architecture (2000); the Ludwig Museum, Cologne; Kunsthalle, Vienna;The Andy Warhol Museum, Pittsburgh, and the Art Basel Miami Beach fair (2007). He is theauthor of two books, Rhythm Science (2004) and Sound Unbound (2008), and has producednotable compilations, remixes, and collections of music. --© MoMA NY
Rating:
NR
Genre:
, , ,
Directed By:
Written By:
In Theaters:
On DVD:
Runtime:
Studio:
News & Interviews for Rebirth of a Nation
Critic Reviews for Rebirth of a Nation
Audience Reviews for Rebirth of a Nation
½
I wanted to see this live performance for so long and never got the chance to because I'm an old man and my friends just avoided it. So when I saw the home movie opp I was excited. But there is an annoying narration that explains parts of the movie while it is playing. Unacceptable. I don't know if it was just the version I saw, but it no longer becomes a real performance piece and becomes a pedantic documentary. They could have had it explain parts before, or after, but if there was this voiceover during the live show, I don't think it would have been as popular as it was. As much as I'm a Paul D. Miller fan, this is not good. Support him anyway. But I still only give it 1.5 stars because that voice killed me.
Lee B
Rebirth of a Nation Quotes
There are no approved quotes yet for this movie.