Django 2: Il Grande Ritorno (Django Strikes Again)
(1987)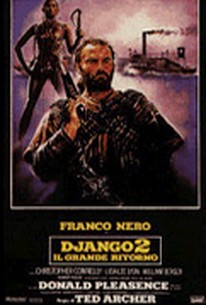 AUDIENCE SCORE
Critic Consensus: No consensus yet.
Django 2: Il Grande Ritorno (Django Strikes Again) Photos
Movie Info
Django was a successful and highly influential "spaghetti western," spawning over 30 pseudo-sequels that borrowed the name and the main character's bloodthirsty ways, but Django 2: Il Grande Ritorno (aka Django Strikes Again) was the first follow-up to feature Franco Nero reprising the title role from the original film, and the only one made with the participation of the director of Django, Sergio Corbucci (though only in an advisory capacity.) In this story, Django (Franco Nero) has spent a decade in a monastery, trying to live down his violent past as a gunman. However, Django is forced to renounce his vows when word gets back to him that a villainous slave trader, Orlowsky (Christopher Connelly), has kidnapped his daughter. Enraged and determined to bring the abductors to justice, Django digs up his old Gatling gun (literally - he had buried it in a graveyard, under a headstone with the name "Django" on it) and once again begins cutting a swath through the countryside as he seeks to free his daughter. Django 2: Il Grande Ritorno also starred Donald Pleasence, William Berger and Robert Posse; some prints are missing a five minute prologue sequence. ~ Mark Deming, Rovi
Critic Reviews for Django 2: Il Grande Ritorno (Django Strikes Again)
There are no critic reviews yet for Django 2: Il Grande Ritorno (Django Strikes Again). Keep checking Rotten Tomatoes for updates!
Audience Reviews for Django 2: Il Grande Ritorno (Django Strikes Again)
After 30 unofficial sequels, Franco Nero finally got off his ass to finally give the fans an OFFICIAL sequel to his 1966 hit Django. The problem is he is over twenty years late! By the time Nero decided to do this sequel original director Sergio Corbucci was too ill to direct and the spaghetti western genre had been long since dead. Because of genre being dead and gone and for the fact Nero looks 20 years older, the filmmakers decided to, wrongly in my humble opinion, to make the storyline take twenty years after the events of Django which in turn makes this film take place after the western age. What! They decide to make an official sequel to Django and it ISN'T EVEN A WESTERN?! All I have to say is this is one of the biggest missed opportunities ever in a Euro Cult film genre. Ok so we have a plot that takes place 20 years after the events of Django and it is no longer the wild west. Django apparently has disavowed his violent ways, burying his machine gun, and has become a monk. That just makes me think of Rambo III and any connection to Rambo III cannot be good! News reaches Nero that a rebel Hungarian soldier (Christopher Connelly) has kidnapped his daughter to work in a bordello (he also kidnaps boys to work in his silver mines) so he decides to dig up his machine gun to go get her back. I forgot to mention that Donald Pleasance is in the film but his character is completely forgettable. Other than this NOT BEING A WESTERN, another problem is the complete tone shift from the first film. The original Django was a cheesy, trashy B-Western classic that took pride in being just that. New director Nello Rossati decides to take this film seriously and throws away all the cheesy and outrageous sequences of the original. I also didn't dig the new serious, reformed Django character with long slick backed hair. To be honest, even with Nero in the role, it just didn't feel like Django. Christopher Connelly is completely forgettable as our villain and director Rossati also overuses soft lenses, giving the film a white hue that was so prevalent in Italian films in the late 80's. Also... where the hell is the unforgettable Django song? Overall this has to be one of the most disappointing sequels I have ever seen. It by no means is a terrible film but it completely missed a grand opportunity to make a great sequel for the fans that had been patiently waiting over twenty years for Nero to return to the role who made him famous. Twenty years is a long time to wait and the fans were not dished up a sequel that was worth it. Sadly many of the unofficial sequels were actually better. See Django, Kill! and Django the Bastard to see what I mean. Hey those were WESTERNS so right away they have something up on Django Strikes Again. If it weren't' for the connection to the classic Django this would be just another forgettable late 80's Italian action film and with the Django character, it should have been a cult dream come true. Sadly it isn't and is only should only be seen as a curiosity piece for euro cult fanatics.
Eric Reifschneider
Life is cheap and dirty in this sun baked spaghetti actioneer. Djanjo trys to help his people fight against the scurge of the "Devil" in the only true Djanjo sequel starring Franco Nero. Great score, ravishing women, and exploitative exotic quality fuel this high caliber bullet extravaganza.
C A
The only official (but certainly not the best) and up to now the latest sequel to Sergio Corbucci's 1966 masterpiece Django, "Django 2: Il Grande Ritorno" aka. Django Strikes Again, is definitely not worthy of the original, but it is still an entertaining Action/Spaghetti Western genre mix. Django, who calls himself "Brother Ignatius" now, has turned his back to violence and become a monk, living in a Mexican monastery, when a fatally ill former mistress tells him that he has a daughter and asks him to take care of the child after she's gone. The lady dies a short time later, and the daughter, along with other villagers, has been kidnapped by a ruthless gang of former Hungarian soldiers under the leadership of villainous Orlowski, a man who brutally enslaves Mexican civilians to drudge in a silver mine and forces women and little girls into prostitution, and is therefore referred to as "El Diablo" by the poor population. In order to rescue his daughter, "Brother Ignatius" has to return to his violent former ways and become "Django" again. The story is not very imaginative, and the locations are a little bit too tropical for a Western, even though the movie is set entirely in Mexico, but Franco Nero's performance makes up for the movie's weaknesses. Made in 1987, 21 years after the original, "Django Strikes Again" is a mixture of a Spaghetti Western and a typical eighties action movie. It is certainly fun to watch, but it's certainly not a masterpiece like the original. Django Strikes Again may be the only official sequel, but it's certainly not the best. I've seen "Django" sequels much better than this, but I've also seen much worse. 6 out of 10 stars because of Franco Nero, the one and only original Django, who saves the movie.
Cassandra Maples
Super Reviewer
Django 2: Il Grande Ritorno (Django Strikes Again) Quotes
There are no approved quotes yet for this movie.
Discussion Forum
Discuss Django 2: Il Grande Ritorno (Django Strikes Again) on our Movie forum!