Do Começo ao Fim (From Beginning to End)
(2009)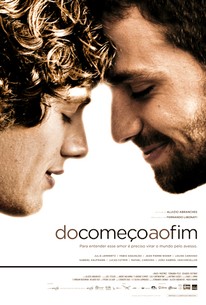 AUDIENCE SCORE
Critic Consensus: No consensus yet.
Do Começo ao Fim (From Beginning to End) Videos
Do Começo ao Fim (From Beginning to End) Photos
Movie Info
Two men find love in defiance of convention in this drama from writer and director Aluizio Abranches. Six-year-old Thomas (Gabriel Kaufmann) is best friends with his half-brother, twelve-year-old Francisco (Lucas Cotrim). Julieta (Julia Lemmertz) is delighted that her son Francisco gets along so well with her second husband Alexandre (Fabio Assuncao) and his son Thomas, but a few neighbors wonder if the boys are closer than is healthy. As the boys grow older, the bond between them grows stronger, and after the death of their parents, 21-year-old Thomas (Rafael Cardoso) and 27-year-old Francisco (Joao Gabriel Vasconcellos) are finally willing to acknowledge their physical attraction to one another. After they've become lovers, Thomas gets some exciting news -- a competitive swimmer, he's been accepted to join Brazil's Olympic team. However, as part of his training program, he's expected to spend the next three years at a camp for championship swimmers in Russia. Can Thomas stand to be taken away from the support of his friend, his brother, and his lover? Do Começo ao Fim (aka From Beginning to End) was an official selection at the 2010 San Francisco International LGBT Film Festival.
Audience Reviews for Do Começo ao Fim (From Beginning to End)
One of the few qualities of this film is the lyricism of the silent shots (well photographed by Ueli Steiger, who turned down Emmerich's 2012 to be in this project), but it is impossible to overlook the corny dialogue, weak performances and lack of conflict in this poorly written story.
Carlos Magalhães
Super Reviewer
Meant to be a taboo and extremely controversial love story, this just turns out to be a very unconvincing affair. Taking incest as his premise, Abranches seems to be more concerned with the exploitation of his theme. The dialogue is uninspired, there are too many sudden deaths for the convenience of narrative and all the melodrama seems straight out of a late night telenovela. It is really up to the two hunks in question, the excessive music score and luscious cinematography to save the day but that's a very big ask when it's a day worth forgetting. However, I would love to tie Putin to a chair and force him to see this so two stars from me!
Héliø Leønardø
Visually beautiful film. It presents a very challenging but at times awkward story line with intelligence and understanding. This is no ordinary gay-themed movie -- so many of which seem silly, predictable and even trite. This one requires the viewer to confront issues that are usually avoided in such films. It is not for the faint of heart nor for the prude.
Robert Walsh
Do Começo ao Fim (From Beginning to End) Quotes
There are no approved quotes yet for this movie.
Discussion Forum
Discuss Do Começo ao Fim (From Beginning to End) on our Movie forum!