Do Not Disturb
(2011)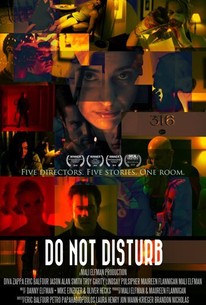 AUDIENCE SCORE
Critic Consensus: No consensus yet.
Movie Info
Five directors tackle five short stories that are all tied together in one dark, twisted, humorous film about what goes on behind the door of room 316. From a lonely man who pushes a hooker too far, to a Twilight-Zone-esq, Sci-Fi tale, to a sweet teenage romance, and then finally a noir thriller about a man, a woman, a maid and the mafia tied into a spooky horror with a hotel maid -- Do Not Disturb has it all. Each director was given a brief synopsis, eight rules to follow, and one day on set to create their film. --(c)Gravitas
Rating:
NR
Genre:
,
Directed By:
Written By:
In Theaters:
Runtime:
Studio:
Critic Reviews for Do Not Disturb
All Critics (2) | Fresh (1) | Rotten (1)
Another one of those first time films with a little something going for it. If you're interested in new voices, you'll see a lot of promise in Mali Elfman's debut.

Do Not Disturb is not unassailably dreadful-and, in fact, Diva Zappa as the maid and Troy Garity as a Mafioso are quite fine--but the whole venture comes off as little more than an innocuous student project that should have stayed in the classroom.

Audience Reviews for Do Not Disturb
½
Once upon a time many years ago, a little movie called "Four Rooms" slipped into theaters. Riding off the hyper-violent pastiche defined by "Pulp Fiction," it featured the work of not one but four different directors each helming their own short and all tied together through their setting in a hotel on New Year's Eve. In that respect, "Do Not Disturb" is an update of Four Rooms, using its formula as a blueprint and weaving a new quintet of films from it. The main difference? "Four Rooms" was at least vaguely interesting. And how couldn't it be with contributions from Robert Rodriguez and Quentin Tarantino and the winningly frenetic Tim Roth as the poor bellhop along for the ride? "Do Not Disturb" is another beast altogether, and a disappointingly dull one at that. Each film begins with promise, boasting such motel-bound situations as a man hiring a hooker to read his eulogy, two lovers reuniting after one returns from outer space, and a tryst that suddenly devolves into a backroom organ harvest. Every story sounds good on paper, but in the hands of newbie directors, each film drivels on and on past the point of interest. It feels like a college film festival shot in glorious 4k, except no one got class credit for the tripe on the screen. Stories and direction aside, the anthology also suffers from an all-round cast of amateur actors, most notably Diva Zappa (daughter of Frank Zappa oddly enough), who plays the Roth-esque through-running character known only as "The Maid." Driven by God-knows-what, she makes the round from story to story, interacting with the other characters with seemingly random motivation. It's like she picked a character out of a hat at some pithy acting class and realized she had no idea how to play it... five times. Each role she dons throughout "Do Not Disturb's" five narratives feels horribly out of her range, which is odd considering she doesn't do all that much to begin with. Overall it plays like a film school knock-off of "Four Rooms," noble in its intensions but hamfisted in its execution. I don't imagine this ushered-to-OnDemand rarity from 2010 will ever make its way onto your radar, but on the off-chance that it does, just brush it aside and pop in its superior 1995 predecessor. Or maybe just go outside and see an old friend. I didn't like "Four Rooms" all that much anyway.
Anthony Kozlowski
½
This movie was a bit of a jumble, being a collaboration using five different shorts from five different directors. My personal favorite was actually the first short film in the series - the other ones alter the personality of the 'main character', a maid witnessing or spying on these events, a bit too far. Some of the pieces felt bit cliche or over-the-top, while others simply didn't hold much impact on me. All-in-all, I feel that this movie doesn't live up to what it could have been, both technically and plot-wise.
Xinrui Chen
Do Not Disturb Quotes
There are no approved quotes yet for this movie.