The Docks of New York
(1928)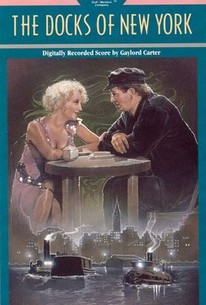 Movie Info
The smokily erotic ambience of Josef Von Sternberg's silent Docks of New York is best appreciated on a big theatrical screen--but only if the available print is at the very least second-generation. George Bancroft plays a two-fisted ship's stoker on shore leave. He saves Betty Compson from committing suicide; though the girl displays little gratitude, the inebriated Bancroft impulsively marries her. After he sobers up, Bancroft is prepared to set sail and leave his new wife waiting for him...perhaps forever. The story is secondary to the virtuosity of the direction and camerawork (one scene is framed in the eye of a needle!) Considered by many to be Von Sternberg's greatest film, Docks of New York is a prime example of the silent cinema at its zenith.
Rating:
NR
Genre:
Directed By:
Written By:
In Theaters:
On DVD:
Runtime:
Critic Reviews for The Docks of New York
Audience Reviews for The Docks of New York
With an artistic and poetic approach to it, a wonderful romance, such lovable characters, terrific performances from its talented cast, deft editing, just beautiful score, playful dialogue, brilliant cinematography and a big heart at its core, The Docks of New York is a beautiful movie that is always charming and enjoyable to watch, while also being a work of art. It is an undisputed masterpiece that is one of the best silent films as well as one of the most romantic movies ever made.
David Lazovic
½
A semi simple story told very well. There ares several elements of this film that are very effective at tugging at your emotions. I could understand the guff blue collar "stoker" (one who shovels coal on boats) having his mainly lone wolf exterior attempted to be (an eventually successfully) penetrated by a weak delicate damsel in self imposed distress. The woman with a troubled past who feels like his man is the only chance for good in her life after he saves her. In an attempt to win over the heart of the one only good thing she seems to have going in her life she attempts to sew his shirt but cant seem to get the thread in the needle. This works as an incredibly effective metaphor for frustration trying to impress him as well as her lack of experience being domestic but trying to hard to be "the good wife" for him. George Bancroft is great as the ultra mans man bill roberts. He invincibly moves though the world confident he can handle any challenge with ease. Betty Compson is the antithesis of Bill as the small dainty emotional Sadie. This movie is just over and hour and well not a must see but still every enjoyable.
Alex Wolf Rkc
A ship worker falls for a suicidal woman. Much of George Bancroft's performance as Bill Roberts is spent strutting and posing with a masculine air that borders on satire, and the plot of the film is victim to silent film's inability to express full character interaction: if this is a love story, it's a love that the audience must endow with its own background and motivations. However, the film is a technical achievement. The cinematography is beautiful, and while Bill is a tough guy to like, there's enough compassion in him that we can find ourselves siding with him. This is a seedy world, and director Joseph von Sternberg presents it in all its bleak charm. There aren't many good guys, so von Sternberg makes the bad guys all themore interesting. Overall, this is a solid and remarkable film but not without its flaws.
Jim Hunter
Super Reviewer
The Docks of New York Quotes
There are no approved quotes yet for this movie.
Discussion Forum
Discuss The Docks of New York on our Movie forum!