Doctor Mordrid
(1992)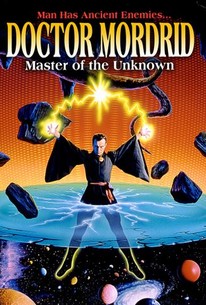 AUDIENCE SCORE
Critic Consensus: No consensus yet.
Movie Info
Doctor Mordrid (Jeffrey Combs) is an interdimensional sorcerer whose earth cover consists of acting as a super for a Manhattan apartment building. He gets word from his contact that a rival sorcerer, Kabal (Brian Thompson), has escaped and is coming to earth to take over the planet. Framed by Kabal for murder, Mordrid is sent to jail where his girlfriend (Yvette Nipar) is the only one who can help him escape -- and prevent the destruction of Earth. ~ John Bush, Rovi
Audience Reviews for Doctor Mordrid
½
Doctor Mordrid, Full Moon, Doctor Strange, Marvel, Charles Band Marvel might be riding high now as a member of the Disney family, but twenty years ago it was literally taking any deal it could get from Tinseltown to make some money off the different properties they owned. Low-budget versions of "Captain America," "Fantastic Four," and "The Punisher" are perfect examples of where the comic book publishing giant was heading at the time. Even George Lucas's bigger attempt at bringing "Howard the Duck" to life was a miserable failure. For those who might not know, Marvel gave rights to Full Moon Features in the early 1990s to adapt the mystical magician's adventures into a live-action movie. When time ran out and the property went back to Marvel, Charles Band decided to move forward with his rendering altered enough to keep from crossing any lines of copyright infringement. Doctor Mordrid (Jeffrey Combs) is a powerful sorcerer who has sworn to keep Earth safe from the powers of darkness throughout the universe. His arch-enemy Kabal (Brian Thompson) arrives with plans to destroy the world. The two clash in an epic battle of good and evil that includes destructive mystical abilities and re-animated prehistoric creatures. You can tell as soon as the opening credits roll on "Doctor Mordrid: Master of the Unknown" Directors / Producers Charles Band and his father Albert were quite passionate about bringing one of their favorite superheroes to life, even if he was under a new name with a re-tooled storyline and origin. Obviously, the movie was made on a budget that limited some of what could be done. It still looks great and the entire cast is fully invested in their individual roles. "Doctor Mordrid: Master of the Unknown" is unrated but should hold an R for all intents and purposes. There's only one scene of nudity, which was really unnecessary and could've been cut or edited to open the picture up to even younger viewers. There was some violence and language as well, but nothing that would've caused it to be rated anything more than PG-13. 1992's "Doctor Mordrid: Master of the Unknown" still stands up well today even though elements of it might seem aged. It's a reminder of where comic book properties stood in the grand scheme of Hollywood at that time. www.ersink.com
Eric Shirey
½
Anton Mordrid (Combs) is an unaging sorcerer who is lives secretly in the modern world, guarding Earth from demonic invasions. When the evil alchemist Kabal (Thompson) escapes from what was supposed to be his eternal prison, Mordid must turn to mortal woman Samantha Hunt (Nipar) for help if humanity is to survive. "Doctor Mordrid" is a neat little modern fantasy film that, like a number of other Full Moon releases is surprisngly good for a direct-to-video release that dates from the early 1990s. It's got an interesting hero who acquires a cool woman sidekick in the course of the film, a villain who gives other fantasy film bad guys a run for their money, and hints at a much large, extremely interesting cosmololgy than we only get a small glimpse at in this film. Actually, getting a small glimpse of something bigger is the way I feel about the whole movie. It feels like it should have been at least 30-45 minutes longer, and with with the scant development that's given to a number of concepts and charactes, it could easily have supported the additional running time. If all the skeletons of nifty ideas and characters that appear in movie had been more fully fleshed out, this could have been a great movie. As it is, It's a pretty good one, with decent acting and okay effects. It's worth checking out, particularly if you like movies and books like "Harry Potter" or "The Dresden Files". Doctor Mordrid Starring: Jeffrey Combs, Yvette Nipar, Brian Thompson, and Jay Acavone Directors: Albert Band and Charles Band
Steve Miller
I was having a pretty good time with Full Moon movies lately with both Head of the Family and Gingerdead Man 2: Passion of the Crust being among the better surprises from the studio, so I was set to enjoy more of their features. Jeffrey Combs is no stranger to Full Moon movies, and being a favorite cult horror icon of mine, I picked Doctor Mordrid to be my next film to watch. Doctor Mordrid felt similar to the Marvel Comic's character of Dr. Strange, and I've read that apparently this was what this film was intended to be an adaptation of before the licensing for the character fell through. But that didn't stop Charles Band and crew, who rewrote the script a little and changed some of the characters. I guess there were some good intentions with this movie, but it still resulted in one of the least effective films I have seen from this studio. Something similar with most Full Moon films is that they aren't that long. This has its pluses, and it has some negatives. Doctor Mordrid is a short film at a little over 70 minutes, but nothing happens in that time span that is either interesting or could remotely considered story development. There is no build up to the film's finale, and the movie is almost completely incoherent. Maybe a longer run could have helped flesh out this film. The film is supposed to be about a sorcerer, Mordrid (Combs), who is protecting Earth from a possible invasion from another dimension, but not a lot of magical stuff happens in the film. I guess budgeting limitations prevented the film from going all out with Mordrid's magic abilities, but a little more than the sorcerer vs. sorcerer showdown finale was needed to sell this film as a movie about people with magic powers. I liked at the end of the film there was stop motion animation used to bring to life the bones of a couple of dinosaurs in a museum. But other than that, this ranks among my least favorite Full Moon films. It looks as if the films in this Charles Band Collection are going to be another brutal collection of films to get through.
Bryan Gomez
Doctor Mordrid Quotes
There are no approved quotes yet for this movie.
Discussion Forum
Discuss Doctor Mordrid on our Movie forum!