Dodgeball - A True Underdog Story
(2004)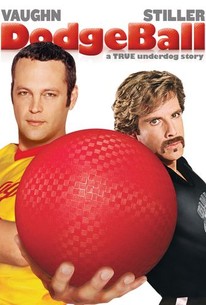 TOMATOMETER
AUDIENCE SCORE
Critic Consensus: Proudly profane and splendidly silly, Dodgeball is a worthy spiritual successor to the goofball comedies of the 1980s.
Dodgeball - A True Underdog Story Photos
Movie Info
Directed by Rawson Marshall Thurber, Dodgeball: A True Underdog Story revolves around amiable underachiever Peter LaFleur (Vince Vaughn), whose rundown gym, Average Joe's, is populated by a less-than-average clientele including a self-styled pirate, an ultra-obscure sports aficionado, and a pining high school nerd. It soon becomes apparent that Joe's is in financial trouble and will soon be foreclosed by attractive attorney Kate Veach (Christine Taylor) - unless Peter can cough up $50,000. Despite Average Joe's posing little threat to Globo Gym, a fitness Goliath across the street that is owned by egomaniacal White Goodman (Ben Stiller) - Goodman senses an easy acquisition and decides to take over the facility. Peter's ragtag group of regulars, however, are less than thrilled with the prospects, and mobilize a showdown, winner-takes-all Dodgeball tournament against Globo Gym. The film also features Missi Pyle, Rip Torn, Stephen Root, and Alan Tudyk.
People Who Like this movie also like
News & Interviews for Dodgeball - A True Underdog Story
Critic Reviews for Dodgeball - A True Underdog Story
Audience Reviews for Dodgeball - A True Underdog Story
½
Probably one of the most underrated sports or fun games you can play which I haven't done since I was in school. I have no idea if there are any actual proper dodgeball leagues/competitions like in this film but I think there should be. As for this film, well the title says it all really, its an underdog story where the underdogs emerge victorious against all odds, the end. This film doesn't try to be anything other than what it clearly is, a complete dumbass of a film with in your face, laugh out loud moments. Nothing here is clever or particularly original its just childish toilet humour utilising every trick in the book to get a giggle, no stone left unturned. The cast is a mixture of some Frat pack members and good character actors who all take the opportunity to let loose and just play it to the extreme. Good old Ben Stiller has to be the main attraction here as the narcissistic gym owner with a Vidal Sassoon hair style. I did also enjoy the satirical take on flashy modern day gyms filled with overly tanned models who merely like to look at themselves whilst getting fit. Stephen Root rehashes his 'Office Space' character to great effect, Alan Tudyk is a pirate, why? no idea but its amusing and Vince Vaughn simply plays the same regular Joe character he always does but he does it well doesn't he. There are many other funny performances here and quite a lot of cameos, too many to mention but none of them ever undermine the films comedy. Kinda funny seeing Lance Armstrong going on about his Tour De France victories though, ouch! The whole idea here is so basic its amazing they got it off the ground really. Chock full of cheap laughs, naughty visual gags, lots of crotch slapstick, cheesy lines, weight jokes and pratfalls, the film does feel very infantile at times but at others it can be very funny indeed. Its not really about the plot for all intense and purposes, you just watch to see Vaughn, Stiller and co act the fool and crack hokey lines. Its all about the hammy acting and rude visual tomfoolery but the bonus is its a good little feel good flick too. Yeah you know what will happen, you know the slimy slow witted Stiller will get his comeuppance in the end, there aren't any surprises here. You know exactly what you're paying for with this and you get it, like I say the film doesn't pretend to be anything else other than a stupid comedy much like 'Dumb and Dumber' or other frat pack flicks. Upped to the max deliberately with daft spoof-like moments for optimal belly laughs and finishing off with the all too common parody of the classic coming from behind victory. Its admittedly a bit of a one joke flick for sure but you don't need to look into it that much, its just an easy going fun entertaining hour and a half.
Phil Hubbs
Super Reviewer
½
Vince Vaughn and Ben Stiller are a comedy dream-team in this spastic-athletic comedy. Dodgeball's combined humor, silliness and crudeness makes for an entertaining picture for audiences to laugh at. The film takes the sports trait of adversity and heroism and directly and superbly hits it with balls. 4.5/5
Eugene Bernabe
Super Reviewer
Surprisingly well written for a film with such a dumb concept. White Goodman is hilarious and the rest of the characters are funny as well. The story may seem simple but there's more that goes on than just the dodgeball games. It sure does help that many of the characters have depth; it makes the film much better. The humor is over the top and may not work for everyone but I laughed a lot.
Eric Shankle
Super Reviewer
Dodgeball - A True Underdog Story Quotes
| | |
| --- | --- |
| Steve the Pirate: | Bollocks! |
| | |
| --- | --- |
| Peter LaFleur: | Hey, White. |
| White Goodman: | Yeah? |
| Peter LaFleur: | You look awful fat in those pants. |
| | |
| --- | --- |
| White Goodman: | Joanie loves Chachi! |
| | |
| --- | --- |
| Peter LaFleur: | You're adopted, you're parents don't even love you. |