Dog Days
(2001)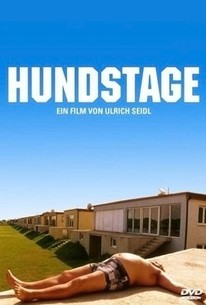 Movie Info
Famed for his controversial documentaries Models and Animal Love, Ulrich Seidl makes his first fiction film with this impassioned attack on the banality and emptiness of modern suburban life. Using a documentary shooting style and mostly non-actors, Seidl weaves together a series of vignette story lines into a tapestry of loneliness and quiet desperation. A retired old man obsesses over meaningless information in life -- the weight of his groceries, and noise level of the neighborhood. A faded beauty queen's devotion to her boyfriend ends after an ugly night at the discotheque. A couple who has long since divorced though still lives under the same roof engages in a psychological war of attrition, trying to force the other into moving out the house. A young teacher's date with her boyfriend turns unexpectedly into a drunken orgy. This film won the prestigious Golden Lion at the 2001 Venice Film Festival.
Critic Reviews for Dog Days
Audience Reviews for Dog Days
½
The interweaving stories of low lives in Austria in uncomfortable situtions. The naturalistic depression goes on for 2 whole hours, definitely not worth watching even though John Waters recommended it.
Sylvester Kuo
Super Reviewer
½
Quite perfect film about life in Vienna, Austria. This film isn't for the faint of heart. It's like Happiness with explicit sex and a less optimistic view of humanity. There's animal poisoning, a strip-tease from a senior citizen, an orgy 'esque' bathouse in a shopping centre, anal candle penetration, and the molestation of the mentally incompetent. Filmmaker Ulrich Seidl has no interest in redeeming humanity here. And why should he? This film features excellent performances from all involved, is always interesting, and is probably the most intelligent social statement to be made on film in awhile.
Dean McKenna
Super Reviewer
½
It's a very thin line between wanting to turn this movie off and laughing histerically-- I fall under the latter category, which I'm not sure how exactly it makes me feel. The characters are strange and annoying (I wanted to kick that hitchhiker in the face), yet completely fascinating.
Quinto Wallight
Super Reviewer
Dog Days Quotes
There are no approved quotes yet for this movie.