Doggy Poo
(2003)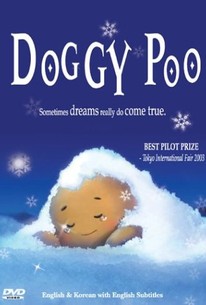 AUDIENCE SCORE
Critic Consensus: No consensus yet.
Doggy Poo Videos
Doggy Poo Photos
Movie Info
This offbeat animated short from Korean director Oh-Sung Kwon tells the story of a talking piece of canine excrement. Doggy Poo becomes forlorn when no one wants to be his friend on account of him being a mass of smelly waste. Luckily, things take a positive turn for the lonely protagonist when he encounters a dandelion sprout and an unlikely friendship blossoms between the two. Based on a 1968 children's book by Jung-Saeng Kwon, Doggy Poo was awarded the prize for Best Pilot at the 2003 Tokyo International Anime Fair and won the Viewer's Choice award at the 2003 Big Apple Anime Fest. ~ Matthew Tobey, Rovi
Rating:
G (not Rated)
Genre:
, ,
Directed By:
In Theaters:
On DVD:
Runtime:
Studio:
Central Park Media
Critic Reviews for Doggy Poo
All Critics (1) | Fresh (1) | Rotten (0) | DVD (1)


Audience Reviews for Doggy Poo
Who knew poo could be so touching? This story completely changes your way of looking at things so little and so inferior like... like dog poo! The story shows the loneliness of the little crap by his conversations with the passing environment. It's depressing knowing that if poos had feelings.... this is it. Feeling rejected by all of earth, until acceptance by only few. Ha, listen to me. Talking about poos with feelings? Well, watch this movie and you'll understand. I'm gonna go ahead and say it, this was the most depressing movie I've seen. Especially his encounter with the chicken. The chicken comes along the road, and looks at the poo. The poo asks why she is looking at him/her (I don't know what it was) that way. She then says that she was checking if he would be a good meal for her children in a very rude way, but even then rejects him. How would it feel if you were rejected, even as a meal? I don't see why anyone wouldn't like this movie, it shows the true brutality of the world where no one sees it. 100%
Ryan Sinclair
Is it alright to describe a pile of dog crap as being adorable? I wouldn't imagine that there would ever be a day that I would call any sort of fecal matter adorable, but that was the word that came to mind when I watched Oh-Sung Kwon's bizarre animated short Doggy Poo, which chronicles the lifespan of a dog turd that questions whether or not it has a purpose in life. I was expecting this film to be traditionally animated, but was surprised to see that it was done in stop motion instead. I'm a big fan of stop motion animation, and am disappointed that not too many animators use the style anymore, especially with the advent in computer animation. The animation in Doggy Poo isn't amazing, but it is well enough to get the film's point across. It was a little weird that this pile of poop managed to live for so long. I know that the idea of poop being alive should tell me that this isn't a story that I should bring logic into, but I still found it hard to believe that Doggy Poo could live through the four seasons like it does. At least the various encounters Doggy Poo had with things ranging from a leaf blowing in the wind to a hen and her chicks walking by were adorable... there's the word again... and made me forget the logic problems I had. With each encounter Doggy Poo has with other talking objects or creatures the movie begins to lay on its overall theme that everything in life has a purpose. This idea is such a simple and cliche one these days, but it wasn't as irritating as it could have been. But then again, that might just be due to the fact that the film's central character is a pile of crap. Doggy Poo isn't fantastic movie making, but it is a bizarre enough idea that I find it impossible to hate this film. I highly doubt that anyone will take anything deep and meaningful from the experience, since there are probably a bunch of better movies out there dealing with the "everything has a purpose" motif. But how many other movies out there can have you saying, "That poop is alright!"?
Bryan Gomez
½
If you can get past the fact that the hero is a pile of dog feces, this isn't that bad.
Randy Tippy
Super Reviewer
Discussion Forum
Discuss Doggy Poo on our Movie forum!
News & Features