Uchu daikaijû Dogora (Dagora, the Space Monster)
(1965)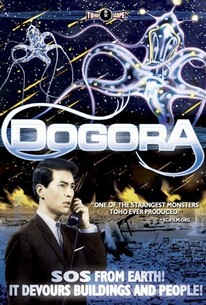 AUDIENCE SCORE
Critic Consensus: No consensus yet.
Movie Info
Ishiro Honda, the Japanese monster auteur who directed the most memorable films in the Godzilla series, made this unusual science fiction tale. A wave of diamond heists in Tokyo have caused the police to crack down on local mobsters, who insist that they're innocent. While the lawmen don't believe them at first, they soon learn the robberies were in fact performed by no earthly criminals. Dogora is an alien creature who resembles a jellyfish and was mutated by radiation; the monster feeds on carbon, and as a consequence enjoys diamonds. But Dogora's appetite quickly grows until the creature becomes a threat to people and property all over Japan. ~ Mark Deming, Rovi
Rating:
NR
Genre:
, ,
Directed By:
In Theaters:
On DVD:
Runtime:
Critic Reviews for Uchu daikaijû Dogora (Dagora, the Space Monster)
All Critics (1) | Fresh (0) | Rotten (1)
There's a lot of straining nonsense in between the genuinely great monster moments.

Audience Reviews for Uchu daikaijû Dogora (Dagora, the Space Monster)
Not one of Toho's best monster movies. The plot doesn't focus on the monster enough, and even then, the monster rarely appears on screen. The characters aren't too interesting, leaving the rest of the plot to be boring. The effects are quite nice though, and Dogora is still an interesting monster.
Wes Shad
Alright 60's Japanese Sci-Fi. Dubs were predictably awful, but I thought this movie had a pretty good concept and some pretty great effects were pulled out (for 1964). Unfortunantly I think they werent able to pull off a truly great monster movie. For one the subplot involving diamond theives kept on getting in the way, and to be honest made the movie difficult to follow. Not that I have any problem with movies about diamond theives, this particular film just felt like it never really decided which it wanted to be, and I found the sci-fi monster portions to be the best aspect of this film. Could have been better, but good for what it is. Recommended for genre enthusiasts.
Ed Fucking Harris
Super Reviewer
½
This Film Feels like two movies in one. One part focus on the monster Dogora, a jellyfish like space monster and the other on a bunch of criminals stealing diamonds that Dogora has an interest for. This film does has some lesser moments from dogora being a uninteresting monster but is saved by the cast of characters, solid acting and has humor to keep this film being good. The film starts off with a gang of diamond thieves stealing diamonds but eventually they start noticing weird things from floating in the air and seeing a weird object at the diamond place. Meanwhile detective Komai is investigating on a suspicious character name Mark Jackson who has something to do with the diamond heist that went wrong and Mark Jackson has his own motives of his own when he visits the gang boss of diamond thieves. Later, The Gang tries to come with another heist to steal the diamonds but are interrupted by Mark Jackson. But until that one of the trucks starts floating in the air though the diamond gang got away with the diamonds but really it was candy as they were tricked. Komai Evenutally finds Mark Jackson and realize that he's a special agent looking for the diamonds and to make sure the gang doesn't get it. Envenutally strange things start happening around the world from diamond shops to anywhere with diamonds Suddendly disappear and Dr. Munakata, a professor on carbon dioxide know that the space creature Dogora is taking the diamond soon enough Dogora is in Kyushu and is attacking can It be stop? Overall, Dogora is very uninteresting by the time he appears on screen which is the middle of the film. His appearance somewhat hurts the pacing of the film as you could care less about the monster and really focus and pay more attention to the cast of characters who really steals the show from the title monster. Plus the humor that is brought into the film. From Mark Jackson Shrugging his shoulders, to Komai's naive attitude that make him looks dumb and Gangster Sabu who cowardly attitude that has at least you grinning. as for the Acting, Everyone gives a solid job with their roles, despite what little there given. Robort Dunham gives the most memorable and enjoyable performance of the cast.It's his Fluent Japanese that has his performance praised and deserves Props for his performance. Yosuke Natsuki is another Detective-Deadpan lead for this film. since his character is so flat, he gives a flat performance as well. Nabuo Nakamura as Dr. Munakata is a well done performance . He really fits into his role as the curious bland doctor as he he wants Dogora to be studied not killed. Yoko Fujiyama brings a charm, innocent look to her role as Masayo Kirino as she is the doctor's assistant and also it's funny and cute when she flirts with Komai. And last there Akiko Wakabayshi as Hamako.Her seductive flare and sly energetic-ness make her role interesting and great. Overall, Dogora is not bad It's worth watching one or twice when your not doing anything at all but it's not worth watching 60 times though.
Jonathan Vargas
Uchu daikaijû Dogora (Dagora, the Space Monster) Quotes
There are no approved quotes yet for this movie.