Dogs
(1975)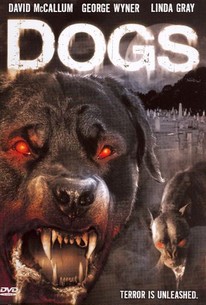 AUDIENCE SCORE
Critic Consensus: No consensus yet.
Movie Info
This fictional video features a town that is terrorized by the sudden ferocity of their dog population.
Critic Reviews for Dogs
All Critics (2) | Fresh (1) | Rotten (1)
Dogs suffers from sloppy editing and expectation which renders the key moments more silly than shocking.
The movie delivers exactly what the title promises, organizing stalking sequences and kills that highlight the four-legged co-stars and their insatiable appetite for human blood.
Audience Reviews for Dogs
Ever since Jaws, the horror genre has given birth to the subgenre of nature gone wild films. Every animal and numerous other creatures has been the subject of the genre. Every studio seemed bent on cashing in on the Jaws craze. Released one year after Jaws, Grizzly was one of the first Jaws rip-offs, and was the first of a new genre. That same year, a killer dog film creeped its ways into cinemas. That film was Dogs, and it would quickly be forgotten by horror audiences. Before Cujo and Man's Best Friend, came this film, which is a surprisingly good little horror chiller despite its premise, so-so performances and dated look. Of course the finest killer dog film is Cujo, but Dogs manages to be an entertaining film to watch from an era that didn't think too hard about trying to thrill its audiences. What makes this one worth seeing is that something as simple as a dog is unleashed upon a terrifying population. Simple ideas make for the best horror films. Even though this isn't a great film, Dogs is a worthy viewing experience for low budget horror film fans. I was surprised at how atmospheric and tense this film turned out to be. The tone of the film is dark and ominous and it more than makes up for the average acting. Nature gone wild films are always interesting and entertaining because they take anything normal in nature and make it into a horrifying concept. Dogs is better than what you'd might expect and in terms of low budget, obscured cult classics, this film succeeds at delivering a highly entertaining experience that will satisfy any genre fan. Not perfect, but lots of fun, Dogs is one of those gems that deserves to be rediscovered.
Dogs Quotes
There are no approved quotes yet for this movie.