$ (Dollars) (The Heist)
(1971)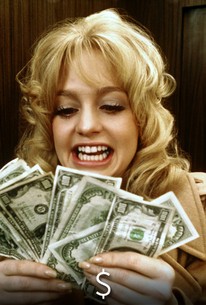 $ (Dollars) (The Heist) Videos
$ (Dollars) (The Heist) Photos
Movie Info
Originally billed as merely $, Dollars stars top box office draws Warren Beatty and Goldie Hawn. Beatty plays a security whiz, employed in Hamburg, Germany. He devises a clever method of robbing the secret bank vaults of notorious criminals, reasoning that the crooks will never turn to the cops. The notion that the crooks may have a few words to say to him does not dissuade Beatty as he and gold-hearted hooker Hawn work out their carefully calculated, meticulously timed robbery.
Rating:
R
Genre:
, ,
Directed By:
Written By:
In Theaters:
On DVD:
Runtime:
Studio:
Sony Pictures Entertainment
Critic Reviews for $ (Dollars) (The Heist)
Audience Reviews for $ (Dollars) (The Heist)
½
This ended up being quite a suspenseful, ingenious bank heist film capped off with one of the best all-time chases in move history.
Jeff B
Quality film, "$" (The Heist in Great Britain)is above average in every way for 1971. The crisp, sharp filming, fast paced....the legend Warren Beatty and Goldie Hawn (which RT mysteriously neglects to credit when you search the film). SEE the original trailer here: http://www.youtube.com/watch?v=JwoqrzJLieU [img]http://images.moviepostershop.com/dollars-movie-poster-1971-1010540465.jpg[/img] $, also known as Dollars and in the UK as The Heist, is a 1971 American caper film starring Warren Beatty and Goldie Hawn, and distributed by Columbia Pictures. The movie was written and directed by Richard Brooks and produced by M.J. Frankovich. [img]http://www.dbcovers.com/imagenes/peliculas/dolares_1971.jpg[/img] The soundtrack is not appealing however. I could tell from the first 10 minutes this was worth watching. Also stars Gert Fröbe, that Goldfinger man himself, you'll know him when you see him. The setting is post-war Germany in Hamburg (the grooming city for The Beatles btw). A call-girl (whore) Goldie Hawn has relationship with a bank official. A bank security expert arms his bank with the latest technology to foil would-be robbers. The only problem is that Warren Beatty, the expert, is the robber. [img]https://encrypted-tbn1.gstatic.com/images?q=tbn:ANd9GcRlwui0uTw0VGnCa0BU01JzwLQsAFDDZyEObTJvmb_6lM3sew8dNw[/img] Hawn and Beatty team up to get into the lock boxes of 3 target vitims. I usually like Beatty so its a fresh tomato film for me from the start, plus 30 per cent for good filming, acting and sets. The soundtrack is not appealing however with what sounds like Little Richard screaming lyrics from time to time. Other than that, there is no music soundtrack. Strangely, Neil Young sings a song early in the soundtrack fans will remember. At times has comic relief. With Hawn it has to. You MUST watch this one to the end as it gets quite heart pounding with suspense as the get-a-way ensues. [img]http://www.movieposter.com/posters/archive/main/15/MPW-7575[/img] One of the better chase scenes in the last 20 minutues of the film. You can see this film anytime on www.hulu.com [img]http://upload.wikimedia.org/wikipedia/en/thumb/d/d6/$_film.jpg/220px-$_film.jpg[/img] REVIEWS by the vastly under paid: 80% Criminally underrated and largely unseen film from 1971. One of the best "heist" films ever made. Great score by Quincy Jones too. 90% it is the funniest and most suspenseful heist movie ever. 40% The film lingers on way too much on the mechanics of the robbery. Goldie Hawn is quite good but I wasn't sure if she was an actress I could ever take ... [img]http://www.movieposter.com/posters/archive/main/3/A70-1803[/img] NOTES for the note concious: 1 The critical consensus summary was that "Heist didn't cover any new ground, but the cast and Mamet's expertise with witty banter make it worthwhile." 2 The building depicted as the exterior of the bank was really the Kunsthalle, Hamburg's principal museum of art. The route followed in the chase scenes realistically takes the viewer through many of the city's unique locales. 3 In its opening weekend, the film opened at #5, it grossed $7,823,521 in 1,891 theaters in the United States and Canada. In total it had a worldwide gross of $28,510,652, significantly lower than the film's production budget of $39 million. 4 The soundtrack to the film was composed by Quincy Jones, with performances by Little Richard, Roberta Flack and Doug Kershaw, in addition to featuring the Don Elliot Voices throughout the score. 5 In his review for the Chicago Sun-Times, Roger Ebert said "Heist is the kind of caper movie that was made before special effects replaced wit, construction and intelligence. This movie is made out of fresh ingredients, not cake mix. Despite the twists of its plot, it is about its characters." [img]http://www.movieposter.com/posters/archive/main/146/MPW-73079[/img] Directed by Richard Brooks Produced by M.J. Frankovich Written by Richard Brooks Starring Warren Beatty as Joe Collins Goldie Hawn as Dawn Divine Gert Fröbe as Mr. Kessel (well known as Goldfinger) Robert Webber as Attorney Scott Brady as Sarge Arthur Brauss as Candy Man Robert Stiles as Major Wolfgang Kieling as Granich Bob Herron as Bodyguard (as Robert Herron) Christiane Maybach as Helga Hans Hutter as Karl Monica Stender as Berta Horst Hesslein as Bruno Wolfgang Kuhlman as Furcoat Klaus Schichan as Knifeman Music by Quincy Jones Featuring Don Elliott Voices With performances by Neil Young Little Richard Roberta Flack Doug Kershaw Cinematography Petrus R. Schlömp 2 hours long [img]http://www.moviegoods.com/Assets/product_images/1020/31679.1020.A.jpg[/img]
monsieur rick
The film lingers on way too much on the mechanics of the robbery. Goldie Hawn is quite good but I wasn't sure if she was an actress I could ever take seriously. Warren Beatty is good and dashing as ever back in this 1971 picture. I knew this would be a heist movie but it's a different kind of heist movie and yet more complex then any other heist picture I have ever seen. I also took notice of the director Richard Brooks who gives a nod to the 64 picture "Goldfinger" by casting Gert Frobe who played Auric Goldfinger in $ Frobe is a bank owner who cautiously watches his most prized possession of a huge block of gold rested at his bank. $ may sound like a cool caper but I didn't really enjoy this picture. The pacing goes on much too long and I kinda wanted to see something more and I wanted to know more about the characters then the heist plan and climax. The long chase scene feels like a downer but I was surprised when Beatty's character was pulled under the rug by the Hawn character. Broks should have ended it there but instead sells out and goes for a cheap hollywood ending.
$ (Dollars) (The Heist) Quotes
There are no approved quotes yet for this movie.
Discussion Forum
Discuss $ (Dollars) (The Heist) on our Movie forum!