Dollman
(1991)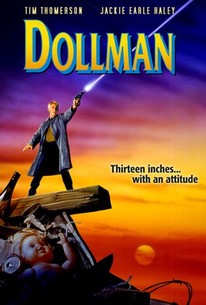 AUDIENCE SCORE
Critic Consensus: No consensus yet.
Movie Info
Intergalactic super-cop Brick Bardo (Tim Thomerson) crash-lands in the Bronx while on a cosmic head hunt, only to find himself just over a foot tall in our world. Bardo spends time bringing street gangs to justice while pursuing his original quarry.
Critic Reviews for Dollman
All Critics (3) | Fresh (2) | Rotten (1)
Say what you want about this movie, but at least it excels in being creative, original, and gutsy...
Broad low-budget silliness.
July 26, 2002 | Rating: 3/5
Audience Reviews for Dollman
There is something about this B-movie that I like, its hard to pinpoint as the film is so ridiculous and belongs in a cartoon realm, I guess its the quaint 'Twilight Zone' charm of the plot and the cheesy yet fun effects mixed with some great hammy acting. Pyun regular Thomerson gives his best 'Dirty Harry' performance here as 'Brick Bardo' (great name) complete with silly shades and a long trench coat. His strong gritty voice barking out silly dialog left right n centre to the wonderfully cliched baddies and gang members lead by a young over acting J.E. Haley. This film does seem to have a cult following (nowadays, upon release not so much) and its easy to see why as its highly enjoyable with its highly nonsensical premise. A classic lead character, terrific bad guys and brilliantly hokey effects. Pyun's best film along side 'Cyborg' most definitely, which I'm sure came as a shock to him.
Phil Hubbs
Super Reviewer
½
Manages to be both terrible and charming.
Marcus Woolcott
Super Reviewer
½
What starts off as a cheap sci-fi turns into all out comedy. Dollman is the story of a renegade police man from another planet. He crash lands on earth only to discover that in comparison to humans, he is 13inches tall. The film mixes the comedy and action well on it's low budget. Jackie Earle Haley is rather good in his role, but it's easy to see why he took a 13 year break from acting. One of the best twists comes when Haley squashes Dollman's arch nemesis with his hand. The floating head had been built up as the main bad guy but his demise was understandable and necessary. It was amusing to see a hardboiled detective be turned into such an nonthreatening force. It's cheap and cheerful fun, with a sense of humour.
Luke Baldock
Super Reviewer
Dollman Quotes
There are no approved quotes yet for this movie.