Dolphins
(2000)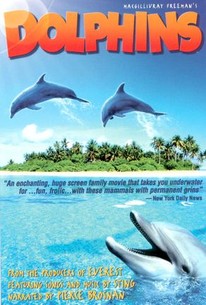 Movie Info
Outdoor and underwater filmmaker Greg MacGillivray explores the secret world of dolphins in this documentary. Dolphins offers a glimpse at many of the 40 varieties of dolphins, in waters from Patagonia to the West Indies, as MacGillivray joins a group of researchers studying how dolphins hunt and communicate. In addition, the film exposes the actions of tuna fishermen who illegally attempt to capture dolphins, and answers questions about the habitat and physiology of these remarkable aquatic mammals. Dolphins was shot in the high-definition IMAX film format,and is narrated by Pierce Brosnan.
Rating:
R (for language, drug use, some sexuality and nudity)
Genre:
, , , , ,
Directed By:
Written By:
In Theaters:
On DVD:
Runtime:
Studio:
Critic Reviews for Dolphins
All Critics (8) | Top Critics (2) | Fresh (7) | Rotten (1) | DVD (1)
Solid eye-candy documentary that any dolphin lover will enjoy.
Dolphins seems intended for a youthful fieldtrip type audience, but skillful filmmaking sets it apart from the typical wildlife documentary.
Overall, pleasant and fun, it'll keep a smile plastered on your face for the first five minutes, before it dips a bit into documentary pace.
Dolphins will undoubtedly send the little ones to the snack bar. Older children will feel as though they've seen this all before
Film Journal International
Milwaukee Journal Sentinel
Audience Reviews for Dolphins
½
Prior to viewing this entertaining documentary, I was never aware of how incredibly talented dolphins are.
jason hornsby
You know, when the cover of a movie brags about the songs by Sting included, one rather assumes he, you know, wrote something new. And I suppose, if he did the arrangements, that might count. Maybe. However, I kind of don't think it does. Don't get me wrong--I [i]like[/i] "Englishman in New York." I just don't see what it has to do with dolphins. I mean, Sting's got kids--one would think he'd be looking forward to the opportunity to do kid-friendly songs, and what's more kid-friendly than dolphins? But no--"When We Dance." Which, again, I like. But still. It's very intelligent of IMAX to give us Pierce Brosnan as a narrator again. I would listen to that man say just about anything. He has such a lovely, soothing voice. And here, we've got dolphins--this means more watching light on water and things swimming and whatnot. Lovely. I'll admit to caring less about the actual, you know, dolphin researchers interviewed than I do about the pretty pictures. This may well be because dolphins are not a primary focus of study for me. I did a report on them in fourth grade, but fourth grade was a long time ago. We do learn a fair amount about dolphins here, I'll admit, even when we're, um, not paying the closest attention to the movie. We learn some about dolphin language. We learn about the emotional connections that dolphins form. We see a dolphin birth. And we learn not to mess with them, because they're actually pretty fierce, for all they're cute. Yes, sure, a researcher was protected from a hammerhead shark by a dolphin. However, there are two factors at work there--one, dolphins are pretty ferocious toward sharks just in general; we learned on [i]MythBusters[/i] a while back that sharks actively avoid dolphins. The other is that it's a human that the dolphin had developed a relationship with; before that development, the dolphin actually attacked humans on a pretty regular basis. The fine people at IMAX bring us some pretty interesting stuff. I suspect, since it's mostly educational, quite a lot of it will be in the library catalog. This means that the two we've done thus far will hardly be the last of the IMAX documentaries. I'm sure there'll be one on the Grand Canyon when we get to "G." Or something. The Grand Canyon. I'm pretty sure there's a good one about volcanos. All kinds of things. And I'm looking forward to it, because IMAX is half about the learning and half about the amazing photography. However, there's really not much to say, here. I think this would be an excellent film to show small children if you're looking for an educational film, but that's pretty much what I have left to say. It's lovely; kids will probably like it. Not much of a review, I know.
Edith Nelson
½
[img]http://images.rottentomatoes.com/images/movie/coverv/68/230368.jpg[/img] [b][u]Dolphins[/u][/b] There is just something about an IMAx experiance that is just breathtaking. The screen encompases your whole vision, it is like you are right there and that is incredible. So you might ask, isn't that best for things like aeral shots? How does that translate to the water? It's just as breath taking. I'm not a big documentary fan, in fact I typically don't like them. I didn't bother with March of the Penguins, but this was very interesting and fun. It was a choice of Dolphins or a film on the Tour De France. I really wanted to see the clear warm waters of the carribbean again so it was the dolphins we watched. Best part of the movie was the Dolphin Sex. The male swims upsidedown under the female. Don't blink or you will miss it. Ok that wasn't the best part. but it was the funniest. The most amazing piece to me was watching the two main divers that swam with the dolphins in the movies. They would be 20 feet under the water, interacting with the dolphins, or recording them....without scuba gear. This man and woman were snorkle diving. I couldn't imagine holding my breath for as long as they do. I couldn't imagine being able to function under water as smoothly as they do without desperately trying to get to the surface for air. These are special people. The life of a marine biologist looks terribly interesting though. Her day included, sailing around in the beautiful water, on a boat for hours just trying to find the dolphins, only to get off and go swimming when they find them. Damn that sounds like hard work doesn't it? And here I thought I had a cush job. At only an hour long it felt really well paced. I could have used some more. I can only imagine what watching a film shot on IMAX film would look like. WOW.
Rand Swope
Dolphins Quotes
There are no approved quotes yet for this movie.