Domaine
(2012)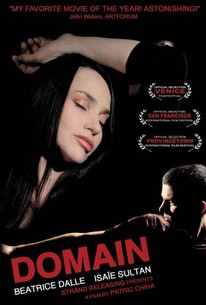 Movie Info
On the threshold of adulthood, 17-year-old Pierre becomes obsessed with his aunt Nadia (Béatrice Dalle). A flamboyant mathematician whose intellect clashes with her alcoholism and fatalistic view of life, Nadia is on a path to self-destruction. As Pierre discovers his budding sexuality, he attempts to rescue his beloved aunt from herself. Domain is a dark, sexy mediation on the intersection of two lives with very different trajectories. Featuring intelligent discourse and Hitchcockian references, filmmaker John Waters declared "you'll be left breathless by the sheer elegance of this astonishing workout." -- (C) Strand
News & Interviews for Domaine
Critic Reviews for Domaine
Audience Reviews for Domaine
DOMAINE will truly blow you away. Helmed by first time director Patric Diha, DOMAINE beautifully straddles the precipice across French sex film, pretentious Euro Trash, and dark crazy psychological meditation, never steering into any of these directions but instead blending them all beautifully. Full of wonderful surprises at every turn, DOMAINE, includes one of the best scenes ever shot in a dance club. The scene is like Iggy Pop meets Rembrandt meets Electronica. A haunting and amazing moment that is key to the film not just a tour de force. And then at the center of the film is the force of nature herself, Beatrice Dalle, who once again proves she is one of the marvels of contemporary cinema.
Michael Lupetin
Beatrice Dalle owns the screen, but this just wasn't as good as it should be. The pacing is frustrating. And I find it endlessly aggravating that Patric Chiha has no problem with using text for "One Month Later" and "One Week Later" yet when later in the movie two weeks pass, there is nothing. It's inconsistent, which wouldn't bother me if it didn't feel like it was trying to be otherwise. Isaïe Sultan is also great in this, but his character was so poorly developed. The film starts strong and has two or three great moments. The club scene is one of the greatest things I've ever seen captured on film. If only the rest of the movie was as brilliant. By the last act, it's just exhausted everything it has and Dalle gets a brief moment to be amazing, and then it's over. It's also impossible to watch this and not think about Paprika Steen in Applaus. Similar themes, somewhat similar performances, and both women completely own the screen. Applaus gets it right, though, and manages to be a good movie with a great performance. Domaine isn't bad, it's just frustrating, especially when Dalle is so so so good. Amazing soundtrack by Milkymee.
Michael Novick
Domaine Quotes
There are no approved quotes yet for this movie.
Discussion Forum
Discuss Domaine on our Movie forum!