Don Juan DeMarco
(1994)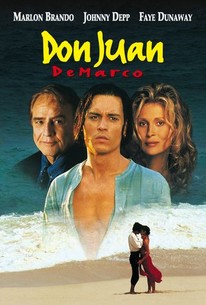 Movie Info
A psychiatrist treats a most unusual patient, only to find that the doctor is the one who gains the most from their sessions in this philosophical romantic comedy. A young man in a mask and cape (played by Johnny Depp) is standing atop a billboard, threatening to jump. When the potential suicide is finally talked down, he's brought to a psychiatric facility where after one doctor washes his hands of the case, he's placed under the supervision of Dr. Jack Mickler (Marlon Brando), an aging psychiatrist soon to retire. The patient informs Mickler that he is actually the great lover Don Juan, who has seduced over 1,500 women, but has fallen into a deep depression after being unable to win the hand of the woman of his dreams. Mickler has ten days to work with "Don Juan," after which he will either be released on medication or committed to a long-term stay in a mental hospital. As Mickler talks with the young man, who speaks rapturously of the art of love, the doctor finds that his philosophies are helping to kick start his failing relationship with his wife (Faye Dunaway), and he slowly becomes convinced that his patient might really be Don Juan after all. Don Juan DeMarco's theme song, "Have You Ever Really Loved a Woman," became a major hit for singer and songwriter Bryan Adams; after working with Marlon Brando on this film, Johnny Depp cast the legendary actor in a key supporting role in his directorial debut, The Brave. ~ Mark Deming, Rovi
People Who Like this movie also like
Critic Reviews for Don Juan DeMarco
Audience Reviews for Don Juan DeMarco
½
Marlon Brando seems miscast in this film but this is compensated by a passionate Johnny Depp, who shines as an incurable, eternal romantic. A refreshing story about love and romance, and the main song will be stuck in your head for quite a while after the movie is over.
Carlos Magalhães
Super Reviewer
½
This is an extremely charming, fun, and romantic film about a psychiatrist who is given ten days (his final ten days before his retirement as it turns out) to treat a young patient who believes with all of his being that he is Don Juan, the world's greatest lover. Problems arise when the doc, and some of the hospital staff, all start to fall under his magical spell and get swept away by his cham, passion, and presence. This film is mostly light, but tons of fun and very charming. Johhny Depp is excellent, and he has a field day playing Don Juan. Marlon Brando is decent, and it's fun seeing him go toe to toe with Depp, but this isn't one of his better performances. It's not terrible, but he looks like he's mostly coasting through it. Dunaway is okay, but I would have liked her role to have maybe been a little more substantial. The music and cinematography are both great, and, though this film feels maybe a little undercooked, it's still satisfying enough.
Chris Weber
Super Reviewer
I rarely get girly over heart-throb Actors, but if Johnny Depp wasn't tempting enough, in this film he appears as the World's greatest lover too! A romanticised Drama, with a phychological touch, enjoyable and easy watching.
Lady D'arbanville
Super Reviewer
Don Juan DeMarco Quotes
There are no approved quotes yet for this movie.