Ms. Don Juan
(1973)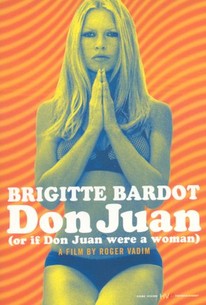 AUDIENCE SCORE
Critic Consensus: No consensus yet.
Movie Info
This campy Roger Vadim film stars sex-kitten Brigitte Bardot as Jeanne, the female counterpart to Don Juan, a woman who is ruthlessly wicked in her pursuit of love and desire. Jeanne confesses murder to a young priest (Mathieu Carriere) who is also her cousin, and after she tells him the story of how she has ruined the lives of a long succession of men, she shamelessly seduces the priest as well. Her story told in flashback, Jeanne gets off to a rocky start as an heiress: her father died while cussing her out for her low-down ways. She gets even with each of the men who does her wrong, usually in devastating ways, but in the end, she sacrifices all for love.
Critic Reviews for Ms. Don Juan
All Critics (3) | Fresh (1) | Rotten (2) | DVD (4)
Vadim plays with the material's tone incessantly, varying from heavy melodrama to campy excess

Fun to watch Bardot strut her stuff

Audience Reviews for Ms. Don Juan
½
I know it's not cool to speak ill of the dead, but Vadim was a terrible director. Of the Vadim movies I've seen, only The Night Heaven Fell was remotely worth watching, and then only as a stock melodrama. Don Juan, on the other hand, is yet another example of Vadim's prediliction for directing his wife while she wears little or no clothing. With little or no script. What makes Don Juan different from the other Vadim/Bardot "films"? This time, she lives in a submarine. No, really. Bardot seduces her cousin (a priest) by telling him about her erotic exploits, in which she humiliates men. Not in a kinky, female-empowerment role-reversal kind of way, but in a boring, time-wasting kind of way. For some reason, HVE has seen fit to restore this film - it looks gorgeous. Unfortunately, a great transfer and a luscious leading lady do not a great film make. The one thing I will say for this film is that it taught me to be very careful with fire around concrete. That stuff burns like crazy. If you're looking for a good Bardot film, try Plucking the Daisy.
Jason McCarley
The incomparable Brigitte Bardot turns her charms all the way to the max in what would become her last starring motion picture performance. As Jeanne, Bardot is her suave, seductive, sexy self and creates a character as unforgettable as she is irresistible. Through a collection of stories as told to a young priest, Jeanne reveals the secrets of her destructive behaviours towards men (and women). The only problemss with this film are the abrupt ending and the title song, which is used incessantly throughout the whole picture, making the film feel as though it belongs in a grindhouse/cult classics $5 DVD collection rather than being a respectable motion picture.
Kenneth Starcher
½
[img]http://akter.kulichki.net/humor/bardot.jpg[/img] Not a great movie. If you take out some of the god-awful music, it's not bad. And Damn, she is gorgeous.
Emily Reeve
Ms. Don Juan Quotes
There are no approved quotes yet for this movie.
Discussion Forum
Discuss Ms. Don Juan on our Movie forum!