Don Q Son of Zorro
(1925)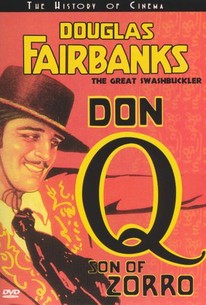 AUDIENCE SCORE
Critic Consensus: No consensus yet.
Don Q Son of Zorro Videos
Don Q Son of Zorro Photos
Movie Info
Douglas Fairbanks returns as the great Spanish swashbuckler in this sequel to The Mark of Zorro. Don Cesar de Vega (Douglas Fairbanks) is the son of the famous masked avanger, Zorro; he's been sent to Spain to continue his education and learn the ways of his homeland. He soon becomes a favorite of the local dignitaries, but this does him little good when he's falsely accused of murder. Faking his own suicide, Don Cesar goes underground, and posing as Zorro, begins his own investigation of the killing; eventually his father arrives, giving us two Zorros for the price of one. Mary Astor plays Dolores de Muro, Don Cesar's love interest, with Warner Oland and Jean Hersholt highlighting the supporting cast; Donald Crisp, who plays Don Sebastian, also directed.
Rating:
NR
Genre:
,
Directed By:
Written By:
In Theaters:
On DVD:
Runtime:
Studio:
United Artists
Critic Reviews for Don Q Son of Zorro
All Critics (1) | Fresh (1) | Rotten (0) | DVD (1)
Named one of the year's ten best films by The New York Times… actually outdoes its predecessor, with a stronger and more sophisticated plot, better pacing, more interesting and complex characterizations, grander production values and set design

Audience Reviews for Don Q Son of Zorro
A familiar plot, but with Don Q, the son of Zorro, played by Fairbanks, and the movie also has Zorro, played by Fairbanks as well! This is a fun movie, I really enjoyed it, it's a nice sequel to the Mark of Zorro.
½
After that abysmal movie, The Bold Caballero, this was a treat. Doug Fairbanks returns as Zorro and also as Zorro's son Cesar. Cesar is studying in Spain, just as his father did at his age. While he is as good with a sword as his father, he prefers the whip, which he has mastered as well. Nearly the first thing he does in the movie is make an enemy of the captain of the queen's guards, Sebastian. Next he proceeds to steal the man's beloved right out from under him, then to befriend a loud-mouthed little creep, the Queen's cousin, the archduke of Austria, Paul. Paul is impressed with Cesars valiance and skill with a whip, and appoints him his best friend for the duration of his visit to Spain. Sebastion is forced to accompany the pair on their non-stop party through the city, as any harm befalling the archduke would result in bad blood between Spain and Austria. Paul gets himself and his companions into trouble, relying on Cesar to get them out, and mercilessly mocking Sebastion the whole time. At the ball in the archduke's honor, Sebastion learns of Cesar's engagement to Dolores, the girl that he had hoped to marry. A foul mood overcomes him, and Paul unwisely chooses to tease Sebastion about losing his love to Cesar. The little bastard had a stiff backhand coming to him, but Sebastion loses it altogether and stabs him instead. Cesar comes to the rescue, but gets ambushed and framed for the murder. Before he can be arrested and executed, he fakes his own death, to allow for time to clear his name. This is Fairbanks, back to basics, and at his best. The story is more complicated than The Mark of Zorro, but otherwise it's like a visit from old friends. There are more stunts, more fights, and now a whip to add some flair and personality. For fun with Fairbanks, it doesn't get better than this.
Paul Savell
Discussion Forum
Discuss Don Q Son of Zorro on our Movie forum!