Donner Pass
(2012)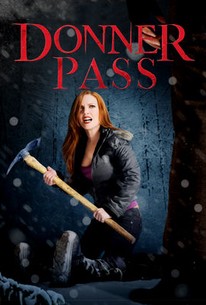 AUDIENCE SCORE
Critic Consensus: No consensus yet.
Movie Info
The grim legend of the Donner Party returns to haunt a group of young vacationers at a cabin in the Sierra Nevada.
Rating:
R (for bloody horror violence, language, a sexual assault, nudity and teen drinking)
Genre:
Directed By:
Written By:
On DVD:
Runtime:
Studio:
Audience Reviews for Donner Pass
½
A poorly made horror film, Donner Pass is incredibly formulaic and predictable. While on a weekend getaway to a remote mountain cabin a group of college students are stalked by a psychotic killer. The writing is atrocious, as in the acting. And the directing does nothing to create suspense or tension. Donner Pass is a clichéd and unimaginative film that doesn't deliver any scares.
Dann Michalski
Super Reviewer
The infamous legend of the Donner Party has been the inspiration for a slew of films both directly and indirectly, and the new low budget feature "Donner Pass" takes a contemporary spin on the tale. After a ridiculous and completely unecessary opening sequence set in the 1800's that sets up the backstory, the movie shifts to modern times with the usual group of horny young teenagers being menaced in the woods. The film is extremely derivative, but it's more "Evil Dead" than "Friday the 13th" with the characters becoming possessed by the spirit of Donner, but that's pretty much saved for the last fifteen minutes. Much of the run time simply builds up to that moment, but oddly enough, it's not as dull as we've come to expect from movies like this. Thanks to some better-than-average directing from Elise Robertson and some shockingly high production values, it held my interest fairly well. The whole thing, even the finale, seems oddly subdued but I was never really bored by it. There are twists along the way, including an especially unconvincing one at the end, but they only prove to be a whole bunch of red herrings. They succeeded in keeping me distracted. There's even a fairly awful folk song by a singer named Orenda Fink that open and close the film that I enjoyed simply because it fits in with the film so well. It reminded me of the tune from the original "My Bloody Valentine". I simply cannot in good faith recommend "Donner Pass", but I enjoyed it a lot more that I ever would have believed. It's a most unusual picture.
Timothy Sanders
½
Donner Pass (Elise Robertson, 2012) I've seen any number of reviews of Donner Pass that all seem to center around the same idea: good story hamstrung by bad acting. I'm not convinced this is the case on both counts; at least two of the actors here turned in performances that I quite liked (even if I found one of the characters portrayed an intolerable ass), while there were a number of aspects of the story I found infuriating. That said, the main mystery here is a pretty nice twist on the wild-mountain-man theme, and if you're looking just at that aspect of it and squinting right, okay, I can see where those reviewers are coming from. One way or the other, though, we're all ending up in the same place. Plot: Thomas (Grey Sheep's Erik Stocklin) is the new kid at an exclusive private boarding school. In an attempt to make friends, he invites some of his classmates for a weekend of skiing at his parents' cabin in the infamous Donner Pass-Mike (Madison County's Colley Bailey, who should refuse to take any more parts in movies with geographical names), Mike's girlfriend Kayley (Best Night Ever's Desiree Hall), and Kayley's friend Nicole (The Purge's Adelaide Kane), an ice queen who hates pretty much everyone except her boyfriend Derek, but who, Mike assures Thomas, is a good person to know if you want to be part of the inner circle at their school. All seems to be going well, at least where skiing is concerned-as they get to the place, a blizzard is on its way in-but eventually, Nicole's boyfriend Derek (The Echo Game's Dominic DeVore) shows up with a couple of similarly drunk lunkheads in tow in the form of A. J. (TV character actor Brandon Morales), A. J.'s girlfriend Valerie (Zombies! Zombies! Zombies!' Krystal Davis), and Brody (This Tunnel South's Antontio Trischitta). Of course, rumors circle that Donner, the head of the party who were forced into cannibalism during a similar blizzard, is still alive and hunting. The group pass it off as an urban legend...until things start happening that lead them to believe that there may, in fact, be someone out there who's interesting in having them for dinner. While eventually, a lot of the seemingly odd pieces of the movie are explained (for example, Thomas being a doormat far beyond the line where anyone else would have snapped), that doesn't excuse them stretching the boundaries of disbelief a great deal farther than the good portion of the plotline warrants. Topping that is that for the most part, the script, based on a story by first-timer R. Scott Adams, gives us a whole lot of characters so hateful you'll be rooting for them to die, one by one. The only sympathetic character, aside from Thomas (and you pity him more than sympathize with him), is Kayley (who is really kind of doing the same); Hall's performance works here. The other solid one is from Colley Bailey, despite that his character is exactly the kind of guy you want to expend your first punch on. Three characters, however, do not a movie make. I wanted to like this a great deal more than I did. * 1/2
Robert Beveridge
Donner Pass Quotes
There are no approved quotes yet for this movie.
Discussion Forum
Discuss Donner Pass on our Movie forum!