Donnie Brasco
(1997)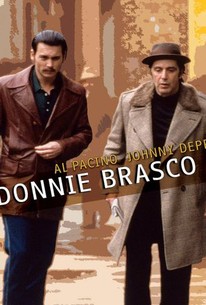 TOMATOMETER
AUDIENCE SCORE
Critic Consensus: A stark, nuanced portrait of life in organized crime, bolstered by strong performances from Al Pacino and Johnny Depp.
Movie Info
True story of FBI agent who infiltrates the mob as Donnie Brasco. He befriends underling Lefty who vouches for him and the two form a deep friendship. Donnie gradually loses himself in his new identity and his real life is turned inside out. Powerhouse performances from both Depp and Pacino with a gritty, true-to-life feel.
People Who Like this movie also like
News & Interviews for Donnie Brasco
Critic Reviews for Donnie Brasco
Audience Reviews for Donnie Brasco
I'm over a decade and a half late, but I finally watched Donnie Brasco. Went in not knowing a clue about who or what the movie was about, but afterwards I was left feeling stupid. Stupid because I didn't watch such a great mobster/suspense film sooner. It's pretty awesome to see Johnny Depp in a role where he is not playing a pirate or a man with scissors attached to his hands lol; if only he could get back to more of this real life acting. I enjoyed the movie and thought it flowed really well.
Eric Alvarez
Super Reviewer
WOO! A breath of fresh air. After a recommendation from a good friend of mine -- yup, I'm talking to you Rottentomatoes buddy ;) -- "Donnie Brasco" took me by a big surprise. What an enthralling piece of work that surges the audience into a non-Hollywood-ized portrayal of an everyday Mafia lifestyle. Everything you can ask for from a movie, "Donnie Brasco" answers it all. An undercover within the mob. It's been done countless and millions of times. However, when done as exquisitely as "Donnie Brasco" does, it's like watching an original plotline again. The obvious story outcomes that we're expecting from a plotline in this type of genre, "Donnie Brasco" hurdles over somewhat the same plot-points with a higher emphasis on the psyche and the hidden. Altogether, it makes for an incredibly rich and engaging narrative. One of the most entertaining mafia flicks I've seen in an extremely long time, mainly due to the mind-blowingly outstanding performances -- by the likes of Johnny Depp and the infamous Al Pacino, -- the entertaining dips and dives of the narrative, and the exquisitely sharp writing that throws a lot of comedic punches to the gut, all the while having a sober basis on reality. "Donnie Brasco", with these elements done in grade-A fashion, manages to place itself as one of the most well-paced gangster movies of all time. Not once does the movie begin to outstay its welcome. There's not much more to talk about without giving out the vital details of the narrative. Everything within this film works. This is a pitch-perfect, immaculate B-movie mafia flick, coupled with real rich tension, characters the audience deeply sympathizes with, and a narrative that's buttery-smooth. "Donnie Brasco" is a much watch.
Albert Kim
Super Reviewer
Undercover FBI agent Johnny Depp is taken under the wing of low level mobster Al Pacino and soon finds that the lines between his work and his personal life start to blur. Donnie Brasco is the true story of Joseph Pistone whose testimony resulted in hundreds of arrests within the New York Mafia in the late 1970s. Pacino plays the virtual opposite of Tony Montana in this warts and all depiction of life in the mob; he is a rather pathetic figure, little more than a flunky to self serving bosses within a world that's riddled with duplicity, treachery and hypocrisy. His partnership with Depp works really well as you start to feel the same sympathy for this shambling, dishevelled figure trying to get ahead without the intelligence or faculties to do so and the film is one of the first mainstream American films to tackle the implications of the work for a deep cover operative. Mike Newell's direction is maybe a little too slick so it was never going to challenge Goodfellas or The Godfather, but thanks to a fascinating true life story that's expertly performed it's a minor classic and worthy forerunner to the likes of The Departed and American Gangster.
Donnie Brasco Quotes
| | |
| --- | --- |
| Lefty Ruggiero: | I never said you were a rat. You's my best friend! |
| | |
| --- | --- |
| Lefty Ruggiero: | If you're a rat, then I'm the biggest f***ing mutt in the history of the maffia. |
| | |
| --- | --- |
| Donnie Brasco/Joe Pistone: | Forget about it. |