Donnie's Story: The Life of Donald Goines
(2004)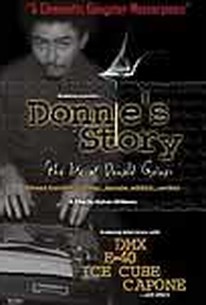 AUDIENCE SCORE
Critic Consensus: No consensus yet.
Critic Reviews for Donnie's Story: The Life of Donald Goines
There are no critic reviews yet for Donnie's Story: The Life of Donald Goines. Keep checking Rotten Tomatoes for updates!
Audience Reviews for Donnie's Story: The Life of Donald Goines
I just saw this movie and I am shocked and amazed that this was even classified as a documentary. I, like many other DG fans have read almost all of his books including the bio "Donald Writes No More." and I believe that Donald's main reasons and passions for writing was to influence children and adults to stay away form drugs and everything related to the drug game. This point was almost entirely missed in the movie and was replaced by pimps and rappers that glamorized street life and pimping. Mixed in between the story of his early life as told by his two sisters. (I thought their stories were the only decent part of the film, however they did not go deep enough into his life). When I was 13 years old, I picked up "Dopefiend" from the free library. This book was so powerful and graphic, that I could not stop reading it until i was done the next day. I was at the age where I could be easily influenced to do drugs, but "Dopefiend" scared me away from ever doing cocaine. I did not want to end up like Teddy or Terry and I did'nt want to know anyone like Porky. After reading Dopefiend, I went on a massive search for any other books authored by him. Ten years later, I was 23 and had read all but two of his books. I'm 43 now and have been drug free since I finished "Dopefiend" almost 30 years ago. This is the kind of testimony that I was looking for in the movie. I know that the are thousands of stories from other [I]ordinary[/I] people about how Donald Goines' books have [I]positively[/I] changed their lives. The producers should have had at least a few of the in this film. I think Donnie would have wanted it that way.
Darren Cathey
Discussion Forum
Discuss Donnie's Story: The Life of Donald Goines on our Movie forum!
News & Features