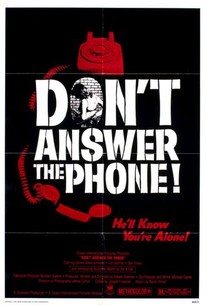 Don't Answer the Phone
1980, Horror, 1h 34m
1 Reviews
1,000+ Ratings
Rate And Review
Don't Answer the Phone Photos
Movie Info
Vietnam War veteran and sometime photographer Kirk Smith (Nicholas Worth) is stalking women in their Hollywood, Calif., homes and strangling them to death. While Lt. Chris McCabe (James Westmoreland) begins a rather unsuccessful investigation, psychologist Lindsay Gale (Flo Gerrish) starts getting disturbing phone calls from Smith. Eventually, the psychotic Smith starts going after Gale's patients, killing them one by one. The stakes get even higher when Gale herself is kidnapped.
Audience Reviews for Don't Answer the Phone
When Friday the 13th was released, it spawned a fury to create an entirely new sub genre of horror. Many imitators followed and tried to cash in on the Slasher craze of the early 1980's. Don't Answer the Phone is yet another in a long list of films in the genre, one that got lost in the endless array of Slashers. I was interested in the film, and I was hopeful that it could have been another Slasher gem, but this ends up being a mediocre effort that fails to really entertain. I found the film to be sillier than your average film in the genre, and it is one that is mediocre and relies on a poorly written script and poor cast. The results are a film that simply don't deliver what fans should expect from the genre, and that's a great shame. I've seen many Slasher films, and this is among the worst films in the genre. Overall, Don't Answer The Phone is a mess, one that isn't worth your time. Stick with better known Slasher films such as Halloween and Friday the 13th, they have their flaws, but there much better than the films that used those two films as a template for countless imitators. I really can't recommend this one, because this is a disappointing effort in the Slasher genre. Don't expect much from this film as it is a lazy effort, one that doesn't have any effective kills, no gore and really bad acting, and that says something considering that the Slasher genre was never about great performances. This is a film that won't satisfy fans looking for creative murder sequences and it a film that should have been much better, but it almost a failure. Some parts were decent, but overall, this one missed its mark, and it suffered from a flawed script, unoriginal murder sequences and a clichéd formula. There are better Slasher films out there for fans to enjoy, don't waste your time on this one.

Opinions are like as*holes - everybody has one. and unfortunately, plenty of the 'reviewers' here seem to be opining directly from it. How 'politically-aware'. 'I wasn't planning to dignify this film with a review . . . ' - WELL THEN DON'T! Don't watch it. Don't buy it. Don't have anything to do with it - and more importantly - don't sit there crying because you didn't like it, and think that everybody else should boycott it too - just because it offended your fragile sensibilities. I'm quite sure you knew what to expect from the synopsis on the DVD / video cover. 'Well, to start with, this film was made by a misogynist . . . ' AMAZING! Obviously, it must have been in that case! *Misogynist: - a misanthrope who dislikes women in particular. One who hates women* Are you aware of 'exploitation' movies - or is this just the only you've seen that worked? You should have started your review with 'Obviously I don't like films like this - so I should really ask myself why I watched it in the first place . . . ' 'I have absolutely no desire to see an uncut version . . ' I think you should stay away from this genre entirely - because it clearly isn't for you - so please do us all a favour, and don't take any more chances. After all - it might ruin your evening, and force you to write another 'review'. I don't particularly feel comfortable watching scenes containing rapes and/or sexual threat either - but if I watch a movie of this type - I made the decision to view it - so I only have myself to blame. Yes - it was grubby & sleazy & at times uncomfortable. That's usually the point of films which fit neatly into the exploitation genre. Yes - the score is dated. It was made in 1980!! Sure it's cheesy - that's what's enjoyable about it. Yes - the acting isn't fantastic - so what! The movie worked for me. I like that 80's greasy nasty vibe. It's what these films are about. If you don't like it - then don't watch it - but please, don't try to discourage others from seeing it. That's just rude.
See Details