Don't Answer the Phone
(1980)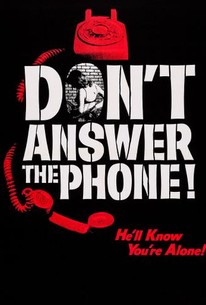 AUDIENCE SCORE
Critic Consensus: No consensus yet.
Movie Info
Cliched and predictable right from the beginning, Don't Answer the Phone features Nicholas Worth as Kirk Smith, a deranged body-builder who murderously vents his multiple psychoses on beautiful women. Apparently the scripters were anxious about slighting a syndrome or two, so he is also painted as a woman-hating, Catholic, sado-masochist, impotent Vietnam vet. Dr. Lindsay Gale (Flo Gerrish) has a radio talk show in which patients call in for advice. Much to her horror, her callers are being strangled, one by one. Lt. Chris McCabe (James Westmoreland) and Sgt. Hatcher (Ben Frank) are determined to hunt the killer down.
Rating:
R
Genre:
, ,
Directed By:
Written By:
In Theaters:
On DVD:
Runtime:
Studio:
Crown International Pictures
Critic Reviews for Don't Answer the Phone
All Critics (1) | Fresh (0) | Rotten (1)
If you want my advice, skip this poorly made and acted mindless sickie pic.

Ozus' World Movie Reviews
Audience Reviews for Don't Answer the Phone
½
77% "I killed and raped them all and no one can stop me, because I'm to strong, and to smart, and to good."-Kirk "The Strangler" Smith AKA Ramon (Nicholas Worth)
FilmGrinder Stone
Run if you must! Hide if you must! Scream (agh!) if you will! But above all, Don't Answer the Phone! Yes Don't Answer the Phone cause you regret it. Don't Answer the Phone is a film about a fat bald that walks around Hollywood raping and strangling women. In the film's trailer, you get a taste of it as he creeps up on them, chokes them and slaps them. It's obvious this film was made by a pathetic "man" who couldn't land a date, so he takes out his frustration on independent women that are beautiful. His victims are all the same, beautiful, smart, and sexually active which they then coward at the sign of danger. Take scene where two girls are topless and in there panties, they both are killed. Since he can't get some, he resorts to punishing them by raping them and murdering them. The killer is a former Vietnam Vet which is rather original, not. He is not unique or terrifying, but he sure convinces us he hates women. I for one am a guy who rolls his eyes whenever there is a rant how Mr. Hollywood and media are keeping women down and want action. Please shut the heck up, but for once I may be in the same level if they consider this film and the directors sexist with a message to women to stay in their place and are useless without a man. Literally any female who is independent is punished in the film. Aside from that, the writing is mediocre and music irritating which competes with inept cops. The acting is atrocious and laughable with enough drama to set the blueprint for those terrible Lifetime movies. They could have tried to make a better film or remove any cheesiness and put more victims, but the filmmakers wanted to cash in the slasher genre. I would compare this to Eyes of a Stranger and Don't Go in the House which both films are better than this crap and they were both terrible too, hahaha. The use of the Vietnam veteran gone psycho is pretty lame and does not hit the psyche of the characters which could have worked fine. Used before, yes, Google Forced Entry or Taxi Driver. The positive is seeing the beautiful girls before they get ruined by the terrible script and acting, oh and followed by the raping and abuse. Don't Answer the Phone is a pathetic attempt for a movie which you think it would be simple to make especially when they are exploiting the genre. I'm glad I saw it, for I am enthusiast for slasher and exploitation film, but I won't be seeing this anytime soon. Don't expect anyone to shout the title, cha cha cha!
Jose Montoya
When Friday the 13th was released, it spawned a fury to create an entirely new sub genre of horror. Many imitators followed and tried to cash in on the Slasher craze of the early 1980's. Don't Answer the Phone is yet another in a long list of films in the genre, one that got lost in the endless array of Slashers. I was interested in the film, and I was hopeful that it could have been another Slasher gem, but this ends up being a mediocre effort that fails to really entertain. I found the film to be sillier than your average film in the genre, and it is one that is mediocre and relies on a poorly written script and poor cast. The results are a film that simply don't deliver what fans should expect from the genre, and that's a great shame. I've seen many Slasher films, and this is among the worst films in the genre. Overall, Don't Answer The Phone is a mess, one that isn't worth your time. Stick with better known Slasher films such as Halloween and Friday the 13th, they have their flaws, but there much better than the films that used those two films as a template for countless imitators. I really can't recommend this one, because this is a disappointing effort in the Slasher genre. Don't expect much from this film as it is a lazy effort, one that doesn't have any effective kills, no gore and really bad acting, and that says something considering that the Slasher genre was never about great performances. This is a film that won't satisfy fans looking for creative murder sequences and it a film that should have been much better, but it almost a failure. Some parts were decent, but overall, this one missed its mark, and it suffered from a flawed script, unoriginal murder sequences and a clichéd formula. There are better Slasher films out there for fans to enjoy, don't waste your time on this one.
Don't Answer the Phone Quotes
There are no approved quotes yet for this movie.
Discussion Forum
Discuss Don't Answer the Phone on our Movie forum!