Don't Go in the Woods... Alone!
(1982)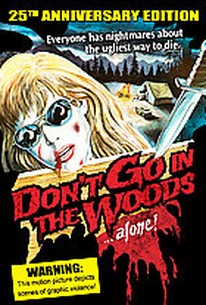 AUDIENCE SCORE
Critic Consensus: No consensus yet.
Audience Reviews for Don't Go in the Woods... Alone!
Dont Go in the Woods Alone! Oh my goodness, this is the all American cheap film with lots of blood, inept acting, mad porno action music, and very bad special effects. Yet, I could not help myself, but to enjoy this cheapie. Its killer is a primitive mountain man that jumps up and down. I recommend this film if you want cheap trash at its finest.
Sleez Boy
½
Pretty darn bad backwoods slasher with the typically bad dialogue and acting yet it seems to have it's own cheesy charm that makes you unable to turn your eyes away. It's also fairly violent and bloody although even most of that seems to be made on the cheap. Mostly this will be a curiousity piece for slasher completists and/or backwoods hillbilly C-horror aficionados.
A.D. Villarreal
Super Reviewer
[center][img]http://images.rottentomatoes.com/images/movie/coverv/77/414777.jpg[/img] [left][font=Courier New][size=2][i]Don't Go in the Woods... Alone![/i] is one of the most bizarre slasher films I have ever seen. Through the years since its release, the film has gone on to become a cult favorite among a select group of people. For the rest, this film is seen as not only one of the worst horror films ever made, but probably one of the lousiest films you could ever see. It currently resides in the Bottom 100 on IMBD.Com. I was curious to see how I would feel about this film, so I selected it to be one of the films to watch and review for Halloween. Thank god for Netflix, because I would have been upset if I actually forked over money to buy this film. I guess [i]Don't Go in the Woods... Alone![/i] has its appeal for gore hounds, but there are far too many problems working against the film for me to enjoy it. The first problem with the film was the screenplay. During the first part of the film I had no idea what the hell was going on. We'd see a group of campers, then cut to someone getting slaughtered and then back again. In the first 10 minutes alone there are more deaths than an average slasher film has in its entire feature length. And it wasn't even like the deaths were imaginative or fun to watch. They were just grisly and boring. Then you have the acting. No one in this film appears to even realize they are in a movie at all. Maybe if they were given better dialogue, perhaps I could have cared to get to know any of these people. Instead the film gives us a cast of uninteresting people who serve no other purpose other than to be butchered by the film's villain. Tom Drury, who plays the maniac killer of the film, sure fits the part. He is a huge man and quite frightening in appearance. But he is a lame killer. We get no history on him, no development or any sort of explanation on why he is the way he is. He is merely some crazy guy who lives in the woods, dresses like he comes from the Thunderdome, and kills people (except for babies). And the film didn't even manage to make him into someone worth hating, and I didn't feel involved with the few characters who decide to extract revenge on him. I said earlier in the review that this film was one of the most bizarre slasher films I've ever seen. Usually I have a problem with most slasher films because of their terrible characters, or lame villain, but there is some element to the film I do like. But [i]Don't Go in the Woods... Alone![/i] is one of those slasher films that gets everything wrong. And it is strange to me that this film has such a cult following. But, such is the way of things. Some films aren't meant for everyone to get.[/size][/font] [/left] [/center]
Bryan Gomez
Don't Go in the Woods... Alone! Quotes
There are no approved quotes yet for this movie.
Discussion Forum
Discuss Don't Go in the Woods... Alone! on our Movie forum!