Don't Go in the Woods
(2012)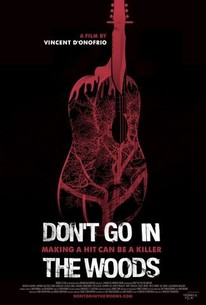 Don't Go in the Woods Videos
Don't Go in the Woods Photos
Movie Info
Don't Go in the Woods is sound advice, especially when there's a killer on the loose. First-time director Vincent D'Onofrio explores love, greed and ruthlessness in this twisted musical/horror hybrid, telling the story of a young band who heads to the woods to get away from their everyday lives in order to focus on writing new songs. Hoping to walk away from the trip with new tunes that will score them their big break, they instead find themselves in the middle of a nightmare beyond comprehension. -- (C) Tribeca
Rating:
NR
Genre:
,
Directed By:
Written By:
In Theaters:
Runtime:
Studio:
Critic Reviews for Don't Go in the Woods
Audience Reviews for Don't Go in the Woods
½
This is a tough one. There is some good, there is a lot of bad. Biggest note is this is a horror/musical. They did a very good job at first with this as I was not aware it was a musical for the first quarter of the movie. It centers around a band going camping in an effort to write songs. Naturally, they break into tune. That's to be expected. Then (I'll try not to ruin the plot,) out of nowhere a young woman breaks into song while walking to the car. No instruments like before. My first reaction was, "Hey, wait a minute. What is this?" That's how much of a distraction it is. From this point out, the music really seems to take you out of what's going on. It was passable when certain people sang/played instruments, but when background music started to play while people broke out into song, it simply completely takes you out of the movie. The movie follows an "indie" band trying to get a record deal. They are your typical hipsters. Not much to say, not very interesting. Luckily, the cast expands quickly and we get some characters with at least a bit of personality. The film is pretty low budget and the visuals do take some time to get used to. No idea what the visual effects were trying to accomplish. More headache inducing than anything. The plot...while this is the biggest criticism of the movie, I liked it. Most called it a tired, typical, and uninspired plot. I thought it was solid. Is originality a must in this genre? It takes a while for the movie to kick in, but when it does, it's a good, "old-fashioned slasher in the woods" flick. Couple of holes in the plot that can't really be chalked up to editing and leaves a few questions. Motive and execution are what makes the film enjoyable(to whatever level of enjoyment that may be for you.) I thought the ending was rather good(despite a huge hole. I'll just go ahead and say it, WATER and recording equipment) and leaves you angry, but in a good way. If you can tolerate the music taking you out of the movie and unlikeable characters, I recommend it. Then again, I'm a sucker for these types of endings, although it was apparent half way through.
M. Carter
(* 1/2): [img]http://images.rottentomatoes.com/images/user/icons/icon13.gif[/img] Boring and annoying.
TTT C
Words cannot describe how disappointed I was in this movie. Vincent D'Onofrio is among my favorite actors, but obviously he should stick to what he does best. There is nothing about this film that resembles horror. I watched all but the last 20 minutes of it and saw nothing but a bunch of 20-somethings hanging around a campfire... oh, and maybe one three minute-scene of insinuated violence. The music is also mostly a waste of time, with the exception of one or two songs that are mildly less horrible than the rest. Don't bother with this.
Amanda Hendsbee
Don't Go in the Woods Quotes
There are no approved quotes yet for this movie.