Don't Leave Home
(2018)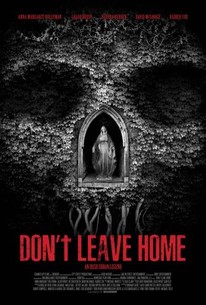 Movie Info
After recently unveiling her new sculptural exhibit on Irish urban legends, artist Melanie Thomas is contacted by Father Alistair Burke, a reclusive Irish priest who, legend has it, once painted the portrait of a young girl who later disappeared on the very day her image vanished from the painting. Now, summoned by Burke and his cohort to the Irish countryside for a special art commission, Melanie eagerly accepts the offer, never stopping to consider that some urban legends might be true. Being praised as "GET OUT with Catholic guilt in the Irish countryside" (Indiewire), DON'T LEAVE HOME proves that not all mysteries should be solved.
News & Interviews for Don't Leave Home
Critic Reviews for Don't Leave Home
Audience Reviews for Don't Leave Home
Atrociously acted (the American accents of the unmistakably Irish protagonist and the art-dealer aren't remotely convincing,) poorly paced, incomprehensible, and boring. Some nice shots but the sound design is uniformly terrible, with overwrought 'Celtic' music drowning out entire lines of inaudible dialog. Some very poor light-balance. Filled with plot contrivances, this film is like an over-signposted road to nowhere; a dismal, sophomore, soporific effort that panders to an American tourist audience. Its mysteries amount to little more than vagueness, and ludicrous arthouse clichés like the 'rich buyers' in their powdered wigs feel like bargain-basement Pasolini. The theme of models and dioramas only emphasizes woeful comparisons to the wonderful 'Hereditary', and comparisons to 'Get Out' are insulting. The awful David McSavage appears as a ludicrous Riff-Raff/ Lurch-style factotum.
Charles Brennan
Super Reviewer
Don't Leave Home Quotes
There are no approved quotes yet for this movie.