Don't Look Up
(2010)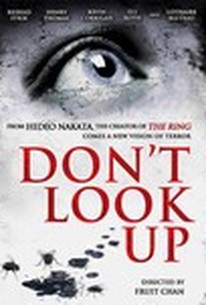 AUDIENCE SCORE
Critic Consensus: No consensus yet.
Movie Info
Director Fruit Chan (Dumplings) takes the helm for this remake of Ringu director Hideo Nakata's 1996 shocker about a film crew that unleashes a malevolent supernatural force after discovering footage of a woman's murder. As the production gets underway in Transylvania, director Marcus Reed gradually realizes that his set is cursed, and begins digging to get to the bottom of the bloody mystery. Henry Thomas, Kevin Corrigan, and Eli Roth star. ~ Jason Buchanan, Rovi
Rating:
R (for horror violence and gore)
Genre:
,
Directed By:
Written By:
In Theaters:
On DVD:
Runtime:
Studio:
E1 Entertainment
Critic Reviews for Don't Look Up
There are no critic reviews yet for Don't Look Up. Keep checking Rotten Tomatoes for updates!
Audience Reviews for Don't Look Up
Don't Look Up (Fruit Chan, 2009) Had you told me in 2008 that Hollywood would import Fruit Chan, the director of the phenomenal little flick Dumplings, to do Yet Another Asian Horror remake, I'd have laughed at you. If you then told me that Chan would bungle the movie almost completely, I probably would have been laughing so hard I wouldn't have been able to breathe. And yet here we are with Don't Look Up, a remake of Hideo Nakata's 1996 flick Jôyu-rei. And it is almost as horrible as the critics would have you believe. Plot: a film crew working on a low-budget horror picture (why can't film crews in horror films ever be working on, say, a lavish costume drama?) discovers footage of a much older film shot in the same location by cult director Bela Olt (Inglorious Bastards' Eli Roth), who, according to the local folklore, went insane during filming, as did most of the surviving cast and crew after one cataclysmic night of bloodshed. Of course, the present-day film crew, headed up by equally obsessed director Marcus Reed (The Hills Have Eyes II's Reshad Strik) and producer Josh Petri (Gangs of New York's Henry Thomas), puts no stock in such stories...but after they view the old footage, strange things start occurring on the set...is the ghost of lead actress Lila Kis (You Don't Mess with the Zohan's Rachael Murphy), or the witch she was portraying in that old film, haunting the new production? All of which sounds good. And by all rights, from everything I've heard, it is good, when directed by Hideo Nakata. But this? This is just another bad re-tread, made all the worse for being directed by a guy who is, when not working within the confines of Hollywood, one of Japan's most innovative, witty directors. How did this go so horribly wrong? We may never know the answer to that question, but there can be no argument about the fact that something certainly did. Perhaps the production was haunted by the spectre of Yasuyo Shirashima? **
Robert Beveridge
http://expletivedleted.livejournal.com/127504.html Today's frightful #Rothtober adventure leads us to a rather meta role for Eli. In Don't Look Up, he has a cameo as a horror director. Whoa. Not gonna lie. A little disappointed when I realized that those first couple minutes of him were all we were gonna get. Yeah he has really high billing on the movie, and I totally get the marketing reasons behind it. Yup I fell for the ploy, and watched this movie simply because his name was on it. I've made worse decisions. I was unsuccessful in finding a clip of his scene, but I did find this video where he gives some commentary about director Fruit Chan and what made him wanna do the movie. He talks it up with such \m/ enthusiasm, makes me wish I was paying more attention to the viewing. It's just tough to drop everything when I'm trying to unwind from a long Monday. I really loved the storyline. A 1920's filmmaker, Bela Olt (played by Roth) is shooting a film on location about an old gypsy curse. Things get weird, he'es never seen again, and the movie is never completed. Fast forward to present day. Another director tries to film the same movie. Things get really weird. I liked the freaky, but wasn't too into the characters and their storylines. There was blood, there were guts, there was film within a film gore, there were flies. Yeah that was different. Lots and lots and lots of flies. Also, if you've ever done the studio tour at Universal, you might recognize the water effects part of the tour. Oh, and the faux filmmaker's name was not lost on me. Bela Olt. Bela Lugosi (even though he was an actor, not a director). Acc to IMDB trivia, Arisztid Olt was one of his early stagenames. Yeah, I see what they did there. http://www.expletivedleted.com http://www.twitter.com/expletivedleted
Dawn Erickson
½
Haunted film set. Psychic director. Interesting cast. Little suspense, but watchable enough.
Don't Look Up Quotes
There are no approved quotes yet for this movie.